We take a look at some of the Irish films making their way to screens in 2020. We'll update films, premieres and release dates and add reviews and interviews as they come in.
Dates may be subject to change due to COVID_19 restrictions. Stay safe.
Jihad Jane
DIR: Ciarán Cassidy
Premiere at Galway Film Fleadh 2019
In cinemas 14th February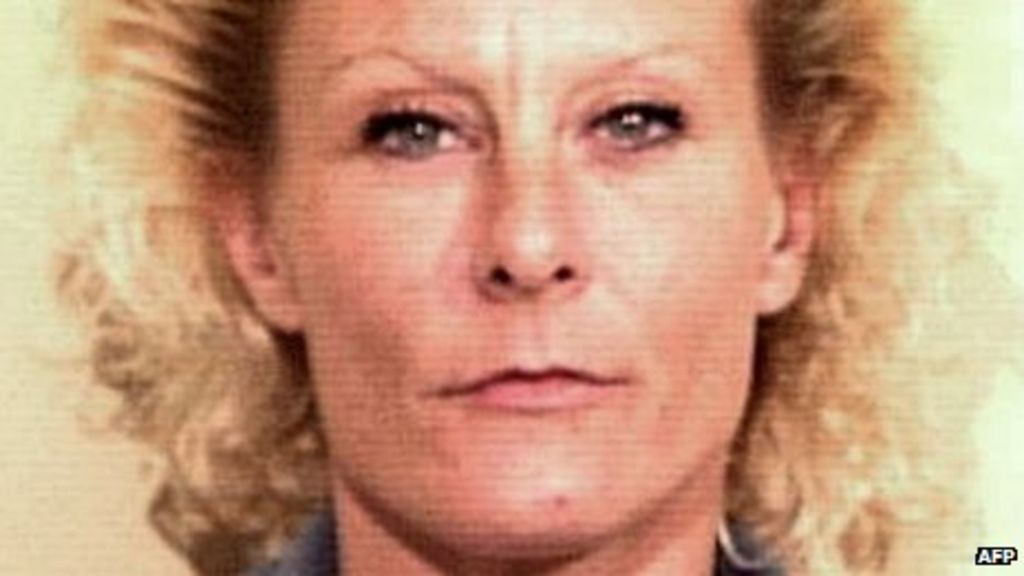 In March 2010, two American women, including one who named herself 'Jihad Jane', were arrested in a number of high-profile arrests in Waterford, Ireland, which were trumpeted by the US attorney's office as 'the new face of terrorism'. Facing huge jail sentences, the two women pleaded guilty but now for the first time ever, with unprecedented access, Jihad Jane tells the story of the most absurd terror cell ever to come together.
Jihad Jane tells of the online world and the damaged people who made plans to murder a Swedish cartoonist but reality comes crashing in when they actually meet for the first time. The film captures post 9/11 America and what emerges is a touching and haunting portrait of not only a damaged terror cell but the country and world that they emerged from.
"goes beyond examining the story of "the new face of terrorism" to highlight the issues this case raises which include the dangers of the dark web, the universal need for connection and the damaging effects of abuse." —Irene Falvey
Podcast: Ciaran Cassidy
---
Calm With Horses
DIR: Nick Rowland • WRI: Joe Murtagh
Premiere @ Toronto International Film Festival 2019
In cinemas 13th March 2020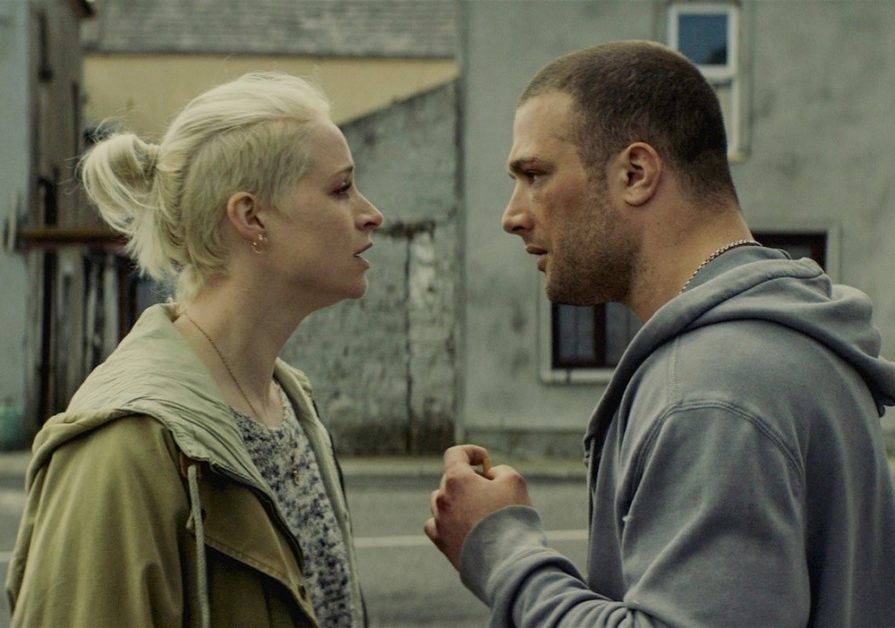 In darkest rural Ireland, ex-boxer Arm has become the feared enforcer for the drug dealing Devers family, whilst also trying to be a good father to his autistic five year-old son, Jack. Torn between these two families, Arm is asked to kill for the first time, and his attempt to do the right thing endangers everyone he holds dear.
CAST: Barry Keoghan, Niamh Algar, Ned Dennehy, Cosmo Jarvis, Hazel Doupe
"outstanding performances from Barry Keoghan and Ned Dennehy" —Aoife O'Neill
Podcast: Nick Rowland
---
DIR: Lorcan Finnegan • WRI: Garret Shanley
Premiere @ Cannes 2019
VOD 27th March 2020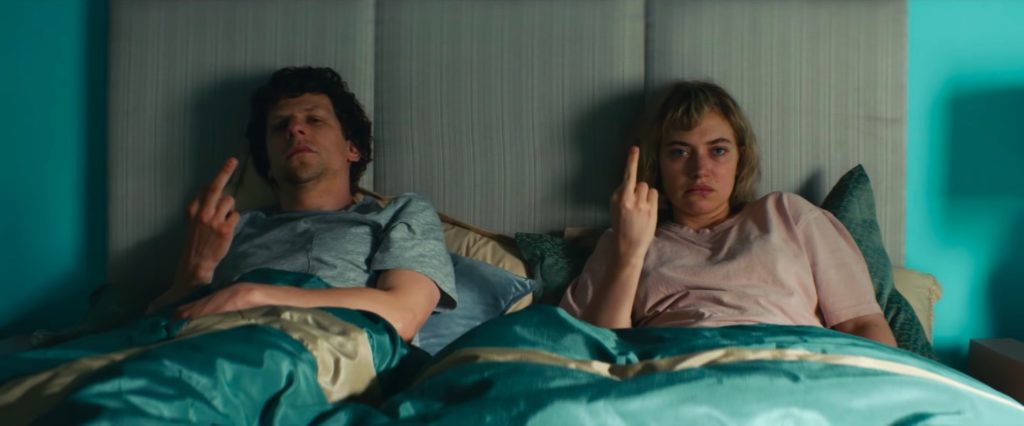 A couple looking for the perfect home, find themselves trapped in a mysterious labyrinth-like neighbourhood of identical houses.
CAST: Imogen Poots, Jesse Eisenberg, Jonathan Aris, Jack Hudson
"a work of impressive exploratory filmmaking and remains fascinating and engaging throughout" —Sarah Cullen
Podcast: Lorcan Finnegan & Garret Shanley
---
Sea Fever
DIR/WRI: Neasa Hardiman
Premiere @ Toronto International Film Festival 2019
VOD 27th April 2020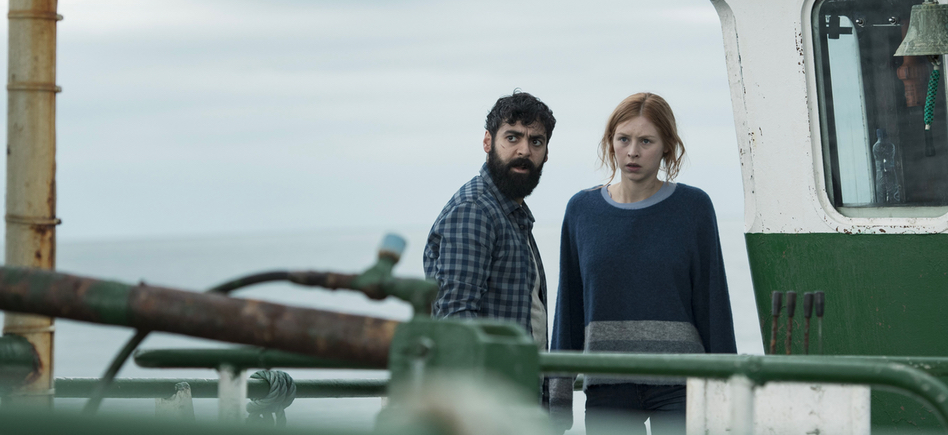 The crew of a West of Ireland trawler, marooned at sea, struggle for their lives against a growing parasite in their water supply.
CAST: Connie Nielsen, Hermione Corfield, Dougray Scott.
"A tense allegory about profiting off the natural world, Sea Fever will likely be remembered as a patient thriller with a thought-provoking script and brilliant practical effects." —Aoife O'Ceallachain
Podcast: Neasa Hardiman
---
When All Is Ruin Once Again
DIR: Keith Walsh
On Demand 27th April 2020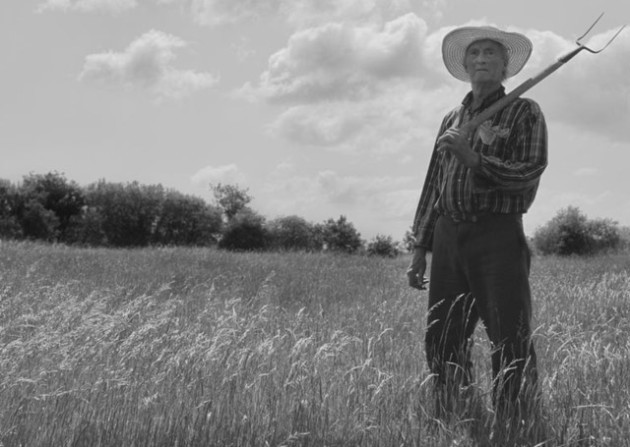 2010: a new motorway ploughs through a community in the west of Ireland, a glaring symbol of our modern age. Over the next 7 years the film weaves an epic tapestry of reflections from bog-lands, fire-sides, race tracks and hurling pitches; all while the country is hit by the worst economic crisis it has ever faced and the realisation that the way we are living on the planet is no longer sustainable dawns.
"a tangible record of lives impacted by modernisation" —June Butler
Podcast: Keith Walsh
---
Dating Amber
DIR/WRI: David Freyne
Premiere on Amazon Prime Video 4th June 2020

Set in Ireland during the mid-90s, two closeted teenagers decide to stage a relationship in order to stop everyone speculating about their sexuality.
CAST: Fionn O'Shea, Lola Petticrew, Barry Ward, Sharon Horgan
Fionn O'Shea and Lola Petticrew are stellar as Eddie and Amber, and with Dating Amber, David Freyne has crafted a special film to be immensely proud of —Liam Hanlon
Podcast: David Freyne
---
Broken Law
DIR/WRI: Paddy Slattery
Premere @ Dublin International Film Festival 2020
In cinemas 19th August 2020
A respected Garda finds his loyalties tested to the absolute limit in this crime thriller which tells the story of two estranged brothers on opposite sides of the law.
CAST: Ally Ni Chairain, Gary Lydon, Gemma-Leah Devereux, Graham Earley, John Connors, Ryan Lincoln, Tristan Heanue
"a rich and compelling film that successfully articulates the frustrations and pitfalls of life in contemporary Ireland" —Hugh Whelan
---
Street Leagues
DIR: Daniel F. Holmes
In cinemas 25th September 2020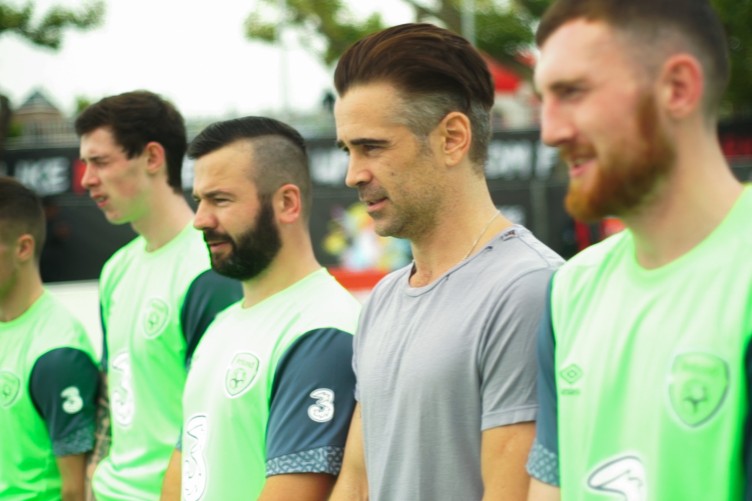 Follows the men and women of the Irish Homeless Street Leagues as they overcome homelessness and addiction through the power of sport.
Powerful, humbling and inspiring, Street Leagues is a moving testament to the indomitability of the human spirit.—June Butler
Podcast: Director Daniel Holmes & Producer Matthew Toman
---
Rialto
DIR: Peter Mackie Burns • WRI: Mark O'Halloran
Premiere @ Venice International Film Festival 2019
In cinemas 3rd October 2020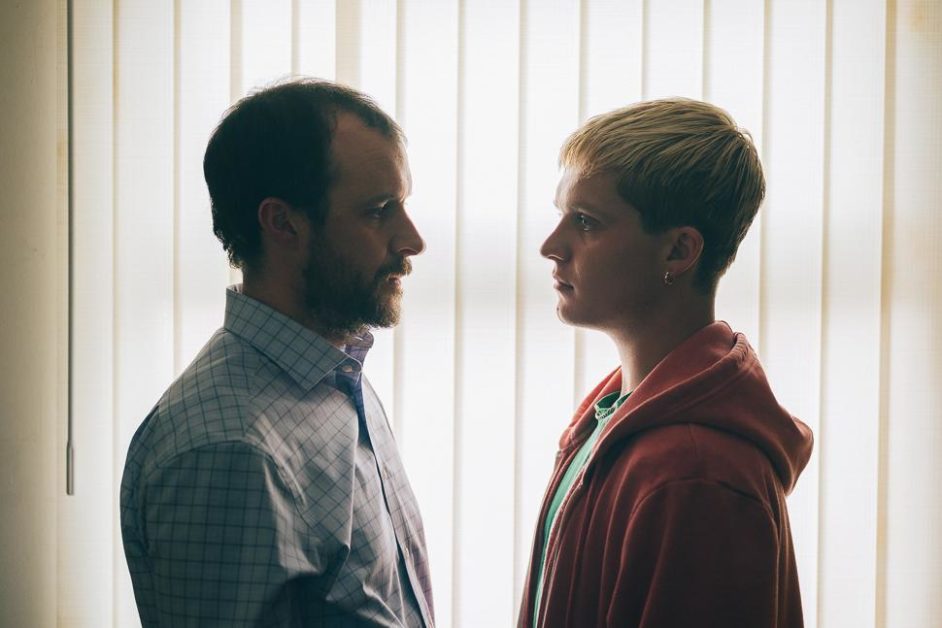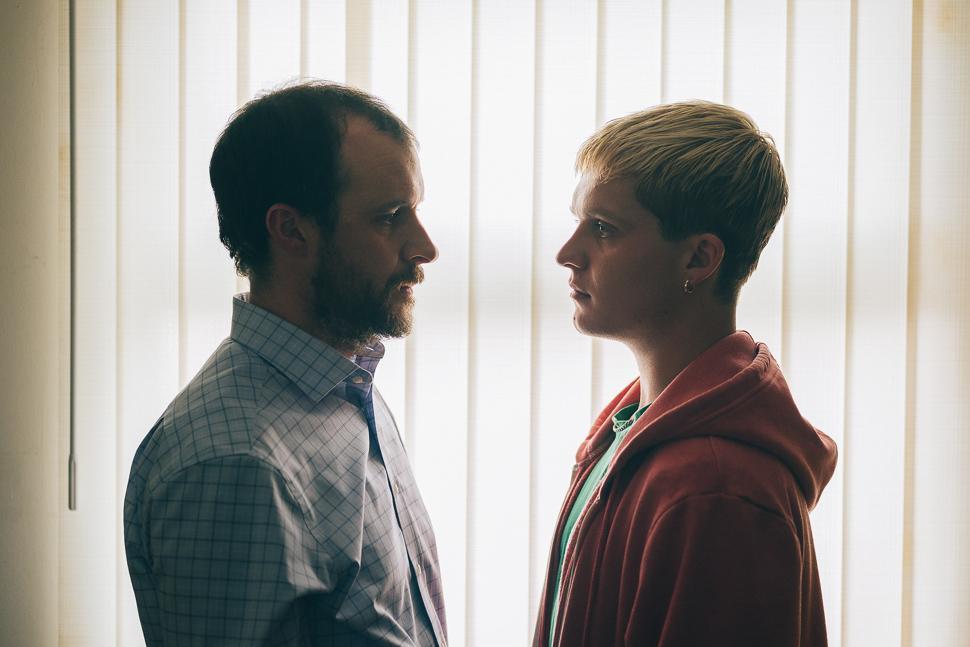 In the wake of his father's death, Colm must come to terms with his actions and find the resolve to halt the crumbing facade of his home, his family, and everything he has built.
CAST: Tom Vaughan-Lawlor, Tom Glynn-Carney, Monica Dolan
"an impactful piece of filmmaking that will linger in your mind for days and days upon viewing" —Liam Hanlon
---
A Girl From Mogadishu
DIR/WRI: Mary McGuckian
Premiere at Dublin International Film Festival 2019
In cinemas 4th October 2020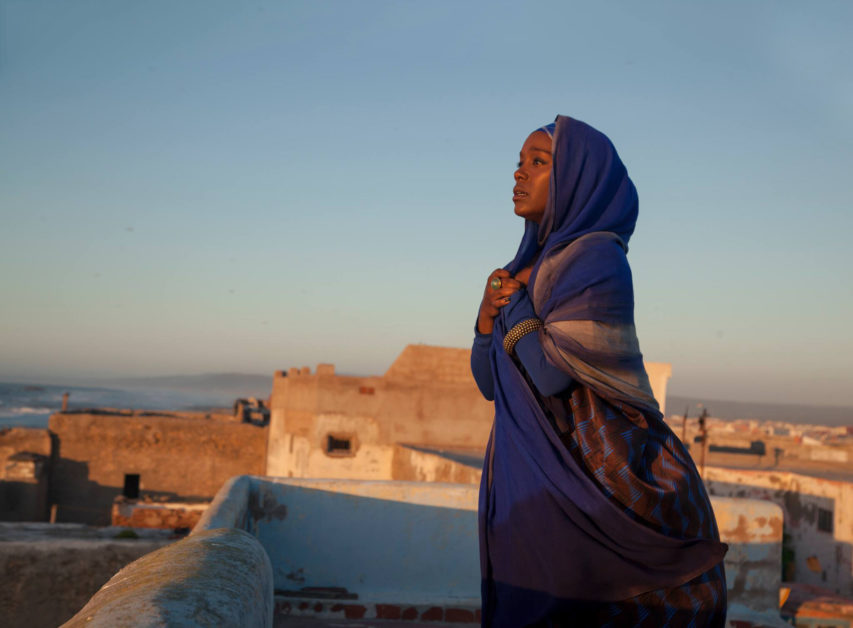 Based on the real life story of Ifrah Ahmed – youth leader and advocate against Female Genital Mutilation in Somalia and Horn of Africa. Fleeing war-torn Somalia in 2006, Ifrah Ahmed is trafficked to Ireland where a traumatic medical examination when seeking asylum reveals the extent of her mutilation as a child. Traumatized by the memory, she channels the experience into a force for change and emerges as a formidable campaigner against Female Genital Mutilation at the highest political echelons in Ireland, across Europe and finally back in the country of her birth, Somalia.
---
Crock of Gold:  A Few Rounds with Shane MacGowan
DIR: Julien Temple
Premiere at the San Sebastian International Film Festival 2020
In cinemas 4th December 2020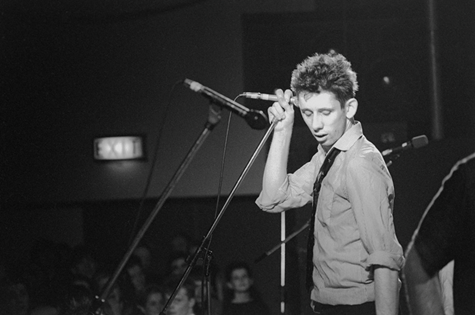 A cinematic exploration of the legendary poet, punk and Pogue Shane MacGowan.
Combining interviews, previously unseen archive footage and specially commissioned animations with an impressive soundtrack, the documentary details Shane's explosive existence from his early days growing up in Ireland, to time spent on the mean streets of London and embracing the punk scene, to forming The Pogues. We discover MacGowan's passions, humour, and deep knowledge of music, history, spirituality, and popular culture.
---
Phil Lynott: Songs For While I'm Away
DIR: Emer Reynolds
In cinemas: Postponed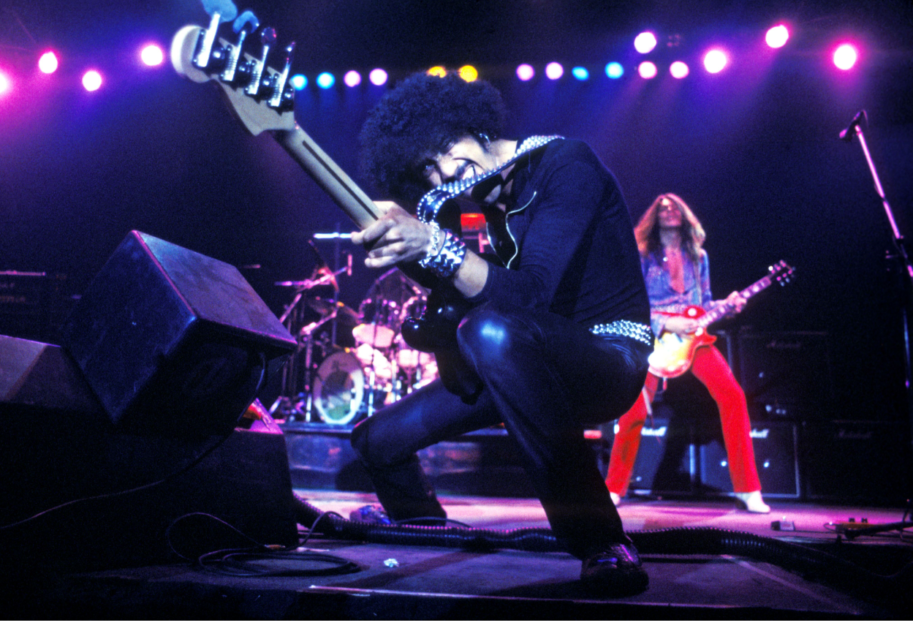 A feature documentary on the life and music of Phil Lynott, telling the story of how a young black boy from working class 1950's Dublin, became Ireland's greatest Rock Star. As lead singer of Thin Lizzy, Phil Lynott was a songwriter, a poet, a dreamer, a wildman. Told extensively through the words of Phil himself and focusing on some of his iconic songs, the film gets to the heart of Philip, the father, the husband, the friend, the son, the rock icon, the poet and the dreamer.
---
Two By Two: Overboard!
DIR: Toby Genkel, Sean McCormack • WRI: Richie Conroy, Mark Hodkinson
In cinemas: Postponed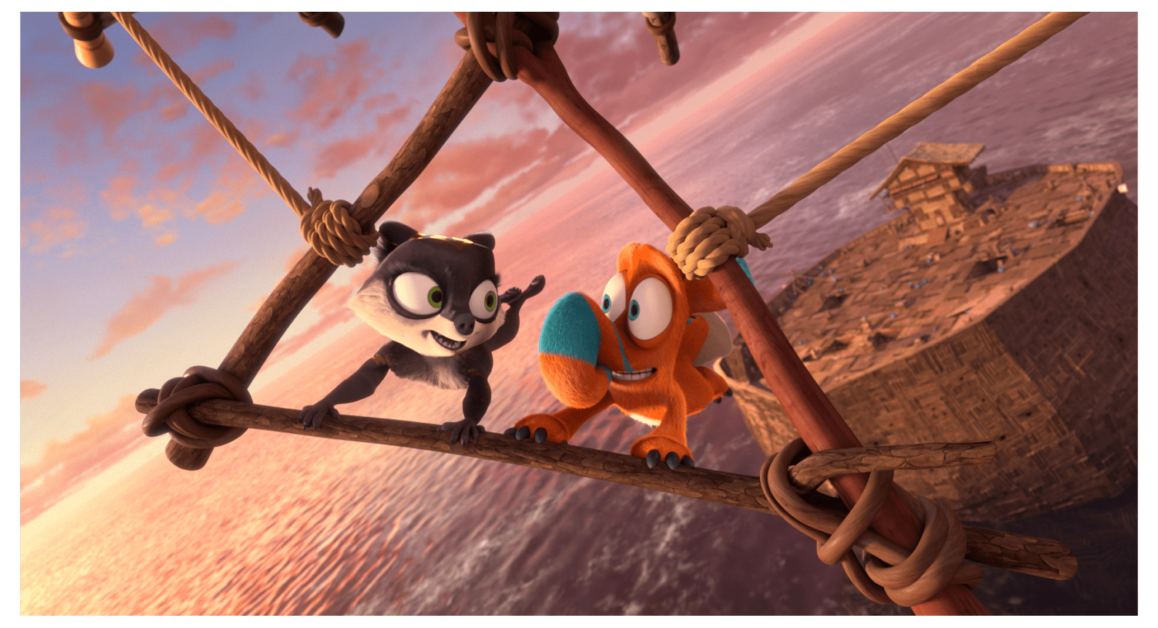 When best friends Finny the Nestrian and Leah the Grymp are finally reunited with their parents on board the ark, they quickly realise that there is no sign of the high waters retreating just yet. Life at sea is not easy, food is bland and stocks are running low. An uneasy, fragile peace between carnivores and herbivores, could break down at any second. Leah convinces a reluctant Finny to agree to a midnight raid of the food stores, which inadvertently leads to them being washed overboard -again!- along with the last of the food supplies. What is to become of Finny, Leah and the rest of the animal kingdom?
CAST: Tara Flynn, Alan Stanford
---
Herself
DIR: Phyllida Lloyd • WRI: Clare Dunne, Malcolm Campbell
Premiere at Sundance Film Festival 2020
In cinemas: Postponed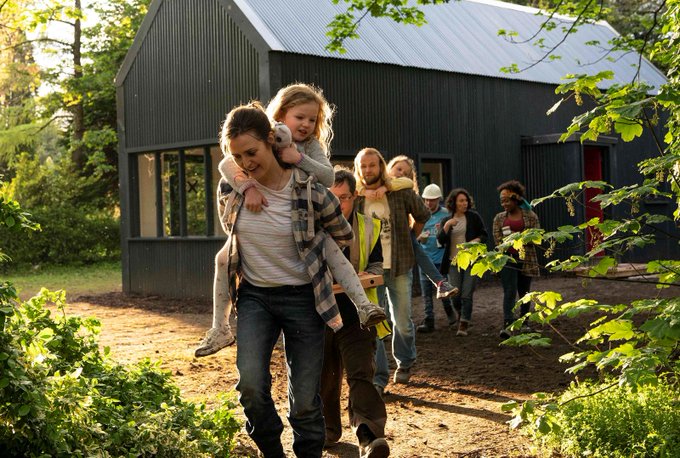 The story of Sandra (Clare Dunne), who on the surface of it, is a young Mum struggling to provide her two young daughters with a warm, safe, happy home to grow up in. Beneath the surface, Sandra has a steely determination to change their lives for the better and when it becomes clear that there are no other options left to her, she decides to build it herself from scratch.
CAST: Clare Dunne, Harriet Walter, Conleth Hill
---
Wolfwalkers
DIR: Tomm Moore, Ross Stewart • WRI: Will Collins
Premiere at Toronto International Film Festival
In cinemas: Postponed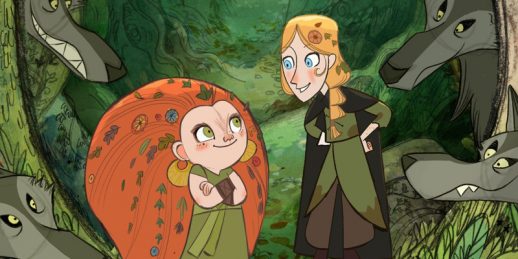 Robyn Goodfellowe is a young apprentice hunter who journeys to Ireland with her father in a time of superstition and magic to wipe out the last wolf pack. While exploring the forbidden lands outside the city walls, Robyn befriends a free-spirited girl, Mebh, a member of a mysterious tribe rumored to have the ability to transform into wolves by night. As they search for Mebh's missing mother, Robyn uncovers a secret that draws her further into the enchanted world of the "Wolfwalkers" and risks turning into the very thing her father is tasked to destroy.
CAST: Sean Bean, Honor Kneafsey, Eva Whittaker, Simon McBurney
---
The Racer
DIR: Kieron J. Walsh • WRI: Ciaran Cassidy, Kieron J. Walsh
In cinemas: Postponed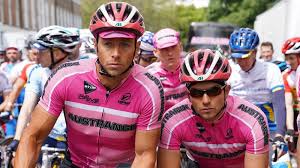 Summer 1998 – the opening stages of Le Tour de France are relocated to Ireland. Belgian rider Dom Chabol (late 30s) has been one of the best "Domestiques" (support riders) on the Tour for the last 20 years. It's a sacrificial role – setting pace, blocking wind, and providing support to enable the team's sprinter to victory – winning is not an option. But Dom secretly harbours a desire to wear the yellow jersey – just once before his career is over.
---
The 8th
DIR: Maeve O'Boyle, Lucy Kennedy, Aideen Kane
Premiere at Hot Docs Canadian International Documentary Festival 2020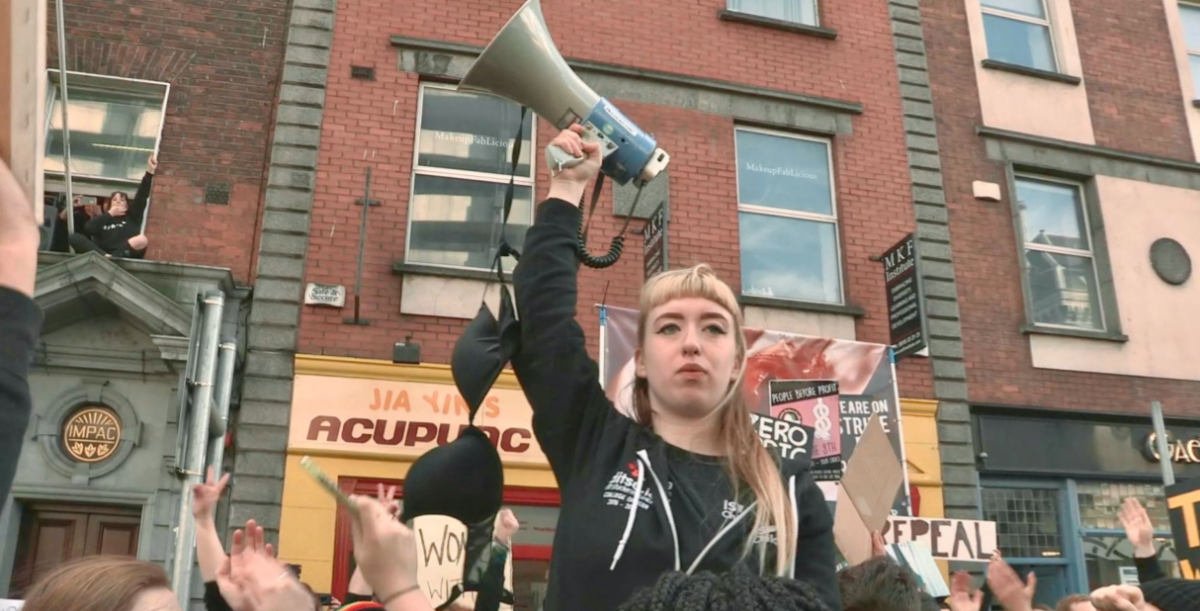 The 8th traces Ireland's campaign to remove the 8th Amendment – a constitutional ban on abortion. Following the dynamic female leaders of the pro-choice campaign as they engineer the impossible this dramatic story is underscored by a vivid exploration of the wrenching failures that led to this defining moment in Ireland's history.
---
DIR: Michael McCormack
Breaking Out
Postponed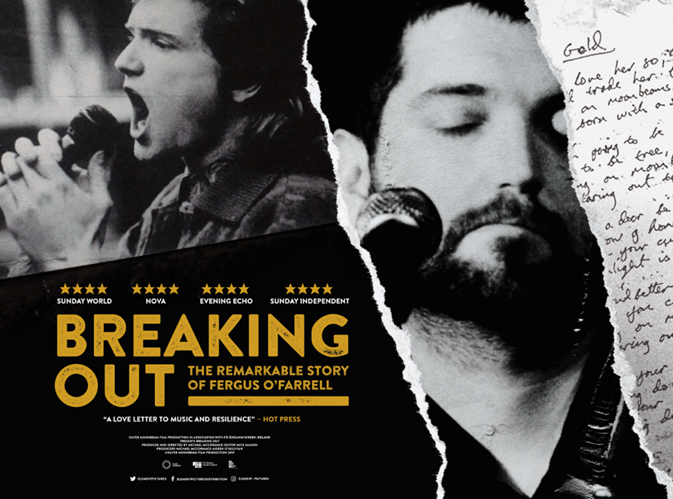 Filmed over ten years, Michael McCormack's award winning documentary portrays Fergus O'Farrell, the charismatic voice of Interference, one of the most compelling and influential bands to emerge from the Irish music scene in the 1990s.
---
Redemption of a Rogue
DIR/WRI; Phillip Doherty
In cinemas TBC
Carrying a doctor's bag containing a rope, Jimmy, the prodigal son, returns home to the austere beauty of Cavan to visit his ailing father and seek redemption before he intends to say goodbye to the world. As Jimmy's father breathes his last, thunder rumbles and rain starts to pour. However, there is a condition in the will: his father cannot be buried on a wet day.As the rain continues, Jimmy embarks on a sacrificial and outlandish journey to rid himself of his guilt and shame from the past, ultimately redeeming himself through love.
CAST: Aaron Monaghan, Aisling O'Mara, Kieran Roche, Pat McCabe, Shane Connaughton
---
Father of Cyborgs
DIR: David Burke, Seán Ó Cualáin
In cinemas TBA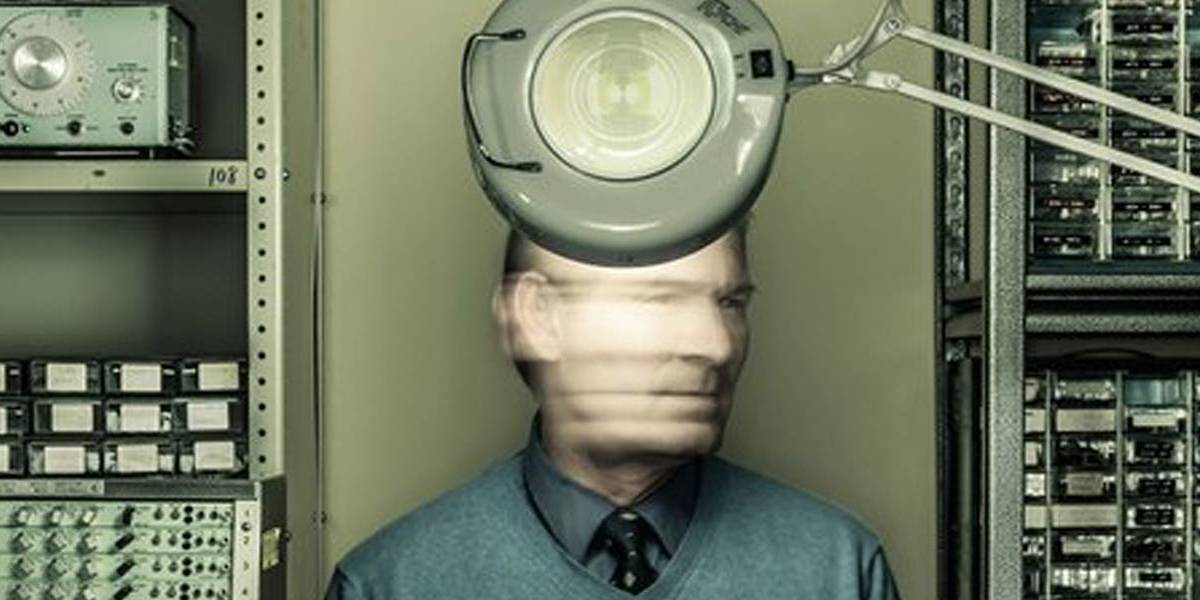 Irish neurologist Phil Kennedy made global headlines in the late 1990s for implanting wire electrodes in the brain of a 'locked-in' patient to control a computer cursor with their mind. Kennedy became known as 'The Father of the Cyborgs'. Travelling to South America in 2014, he made further headlines when tiny electrodes were implanted inside his brain in order to continue his research. The film looks at the ethical quandaries presented by his self-experimentation.
---
---
Rose Plays Julie
DIR/WRI: Joe Lawlor, Christine Molloy
Premiere @ BFI London Film Festival 2019
TBC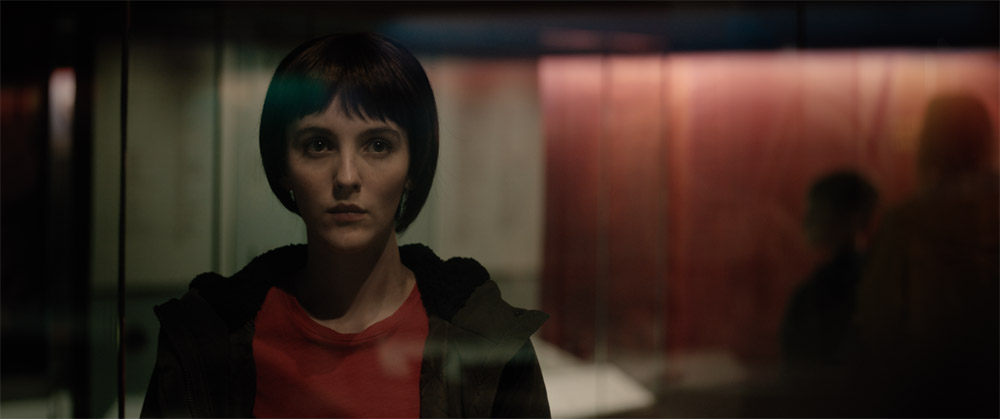 Rose is at university studying veterinary science. An only child, she has enjoyed a loving relationship with her adoptive parents. However, for as long as Rose can remember she has wanted to know who her biological parents are and the facts of her true identity. After years trying to trace her birth mother, Rose now has a name and a number. All she has to do is pick up the phone and call. When she does it quickly becomes clear that her birth mother has no wish to have any contact. Rose is shattered. A renewed and deepened sense of rejection compels her to keep going. Rose travels from Dublin to London in an effort to confront her birth mother, Ellen and learns a secret that has been kept hidden for over 20 years.
CAST: Ann Skelly, Orla Brady, Aidan Gillen, Annabell Rickerby
"An uneasy and suspenseful collision of social drama, revenge thriller, and classical tragedy, Joe Lawlor and Christine Molloy's Rose Plays Julie defies a quick or easy analysis." —Cathy Butler
---
Be Good or Be Gone
DIR: Cathal Nally • WRI: Les Martin
Premiere at Garden State Film Festival 2020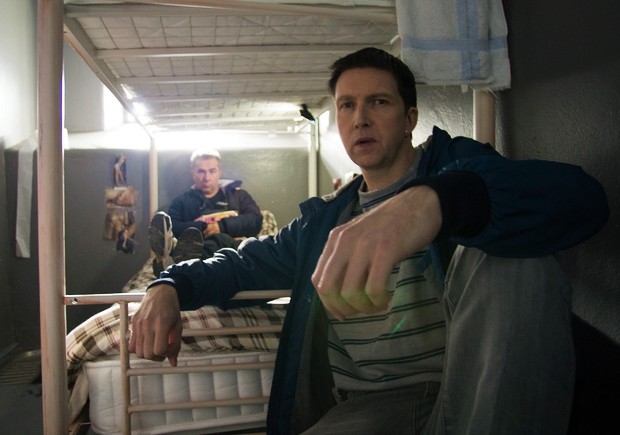 Set over the course of 4 days in contemporary Dublin, the film follows the story of Ste and Weed , two petty criminal cousins, who receive temporary release from Mountjoy prison.
CAST: Les Martin, Declan Mills, Jenny Lee Masterson, Enya Martin, Brid McCarthy, Gerry Shanahan, Aoife King, Alan Sherlock, Ruth Hegarty, Graham Earley
---
Skin+Soul
DIR: Ciara Nic Chormaic
Premiere @ Dublin International Film Festival 2020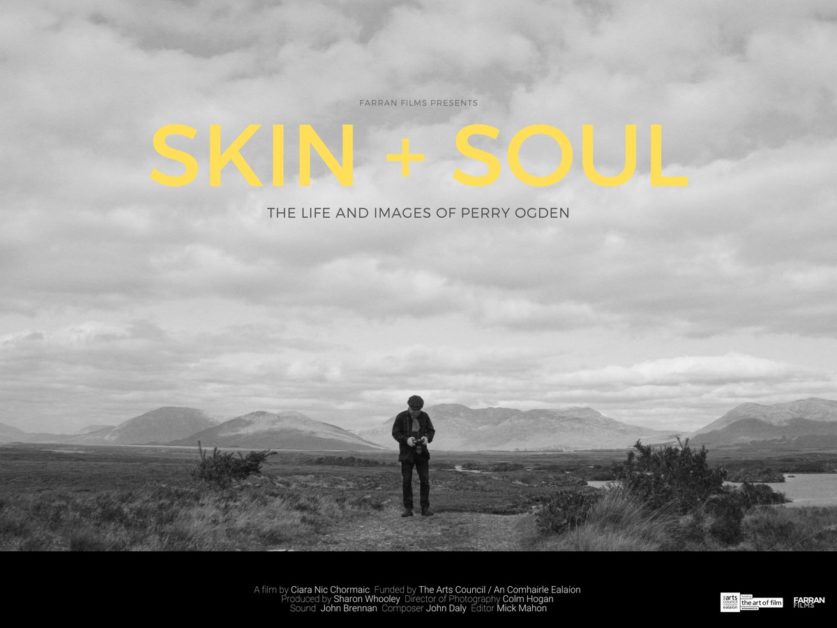 Skin+Soul was funded under the Arts Council Reel Art scheme which is designed to provide film artists with a unique opportunity to make highly creative, imaginative and experimental documentaries on an artistic theme.
Acclaimed photographer Perry Ogden returns to his fashion photography roots for his latest documentary. Told through the eyes – and the lens – of the photographer, the profound images that emerge onscreen have the effect of blurring the lines between the world of fashion and the real world.
"Rendering sublime into straightforward requires immense skills, of which Ogden has mastered every single one." —June Butler
---
New York Our Time
DIR: Vivienne Dick
Premiere @ Dublin International Film Festival 2020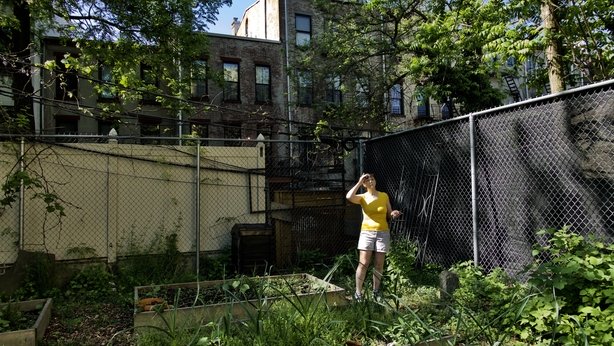 Celebrated filmmaker and artist Vivienne Dick weaves a personal and philosophical documentary remembering 1970s New York in its heyday for bohemian artists and musicians. Featuring contributions from many of her contemporaries at that time, the film also contrasts the "No Wave" movement with contemporary culture amid present-day concerns.
---
Wildfire
DIR/WRI: Cathy Brady
TBA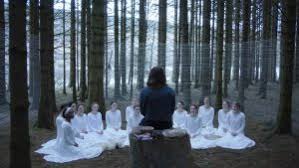 The story of two sisters who grew up on the fractious Irish border. When one of them, who has gone missing, finally returns home, the intense bond with her sister is re-ignited. Together they unearth their mother's past, but as they uncover the secrets and resentments that have been buried deep down, it all threatens to overwhelm them.
CAST: Nika McGuigan, Nora-Jane Noone
---
She's Missing
DIR/WRI: Alexandra McGuinness
Premiere @ Dublin International Film Festival 2019
TBA
When her best friend goes missing at a rodeo, Heidi goes on a search across the desert, digging up secrets and encountering the violence of life on the road.
CAST: Lucy Fry, Eiza González, Christian Camargo
---
Here Are the Young Men
DIR/WRI: Eoin Macken
Premiere at Galway Film Fleadh 2020
TBA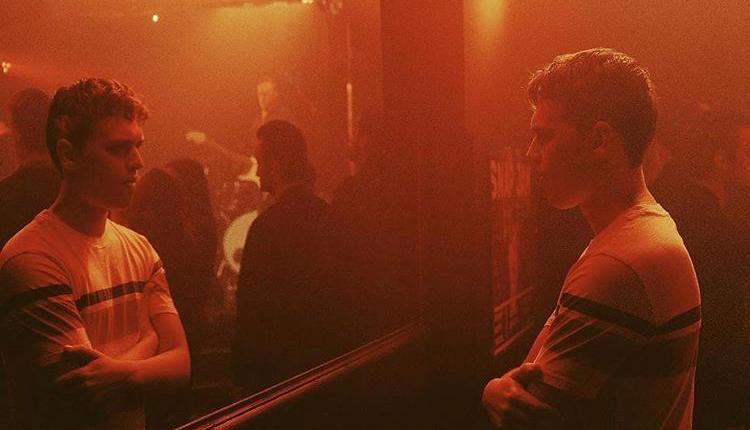 Dublin teenagers Matthew, nihilistic Rez, and the deranged Kearney, leave school to a social vacuum of drinking and drugs, falling into shocking acts of transgression.
CAST: Anya Taylor-Joy, Ralph Ineson, Ferdia Walsh-Peelo
"an engaging reflection on toxic masculinity and the futility of the youthful highs that quickly lose their lustre – drink, drugs, and video games —Irene Falvey
---
Green Knight
DIR/WRI: David Lowery
TBA
A retelling of the 14th Century tale, 'Sir Gawain and the Green Knight'. Sir Gawain, King Arthur's cousin, beheads the Green Knight easily. His opponent survives, however, and the Green Knight demands that Sir Gawain uphold his half of the oath and return in one year to be beheaded. Gawain leaves the court to spend the year traveling.
CAST: Barry Keoghan joins Dev Patel, Alicia Vikander
---
The Castle
DIR: Lina Lužytė
TBA
Set in Dublin, Monika has a dream to play a one in a lifetime concert. Her mother is sceptical and reluctant to support her daughter's dreams, and so she sells their keyboard and forbids Monika from attending the concert. However, Monika stops at nothing to pursue her dream.
CAST: Barbora Bareikyte, Gabija Jaraminaite, Jurate Onaityte
---
End of Sentence
DIR: Elfar Adalsteins • WRI: Michael Armbruster
Premiere at Edinburgh International Film Festival 2019
TBA
After being widowed, Frank Fogle reluctantly embarks on a journey to honor his wife's last wish of spreading her ashes in a remote lake in her native Ireland and a promise of taking his estranged son, Sean, along for the trip. As Sean steps out of prison the last thing on his mind is a foreign road trip with his alienated father.
CAST: John Hawkes, Logan Lerman, Sarah Bolger
---
Arracht
DIR/WRI: Tom Sullivan
Premiered at Tallinn Black Nights Film Festival 2019
TBA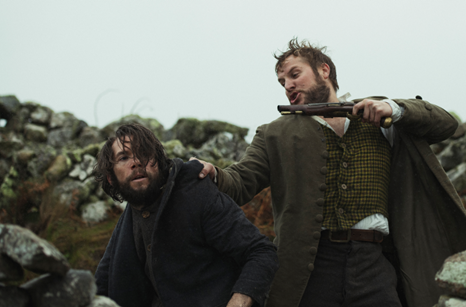 Set during the famine, a man loses everything and is accused of a murder. On the run for three years and with the help of a mysterious girl he attempts to rebuild his life. However, his past however comes back to haunt him.
CAST: Dónall Ó Héalaí, Saise Ní Chuinn, Michael McElhatton, Peter Coonan
---
Pure Grit
DIR: Kim Bartley
TBA
A documentary set against the captivating backdrop of the Wyoming wilderness, Pure Grit follows Sharmaine, a Native American bareback racer, and her girlfriend Savannah, as they strive to overcome the ghosts of past abuse.
---
Finky
DIR: Dathai Keane, Pierce Boyce • WRI: Dathai Keane, Diarmuid de Faoite
Premiere @ Galway Film Fleadh 2019
TBA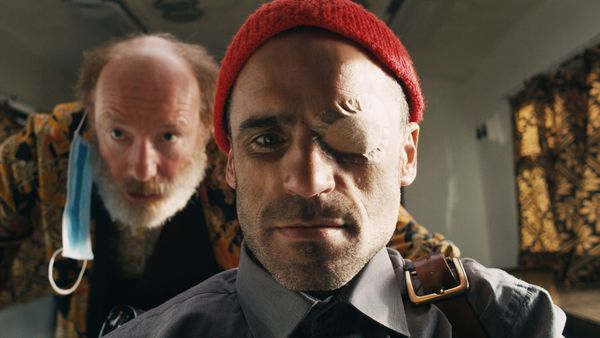 Micí Phincí Ó Foghlú is a young musician with a tragic past who is crippled in a car accident and given a chance at redemption when he is recruited by a violent, avant-garde circus.
"a celebration of the Irish language. It catapults the language onto an exciting new terrain, far beyond the traditions of Irish-language filmmaking. " – Siomha McQuinn
---
The Nest
DIE/WRI:Sean Durkin
Premiere at Sundance Film Festival 2020
TBA
Charismatic entrepreneur Rory relocates his wife Allison and their children Sam and Ben from suburban America to his native England with ambitious dreams of profiting from booming 1980's London. While Rory thrives chasing lofty deals in the city, Allison and the kids struggle to adapt. Once a businesswoman in her own right, Allison finds herself idle and resuming the role of housewife in a run-down mansion they can't afford to furnish. As the eerie isolation of their new home drives the family further apart, and the promise of a lucrative new beginning starts to unravel, Rory and Allison have to face the unwelcome truths lying beneath the surface of their marriage.
CAST: Jude Law, Carrie Coon
---
Dirty God
DIR: Sacha Polak • WRI: Sacha Polak, Susie Farrell
Premiere @ Sundance Film Festival 2019
A young woman rebuilds her life after an acid attack leaves her with severe facial burns.
CAST: Vicky Knight, Katherine Kelly, Rebecca Stone, Bluey Robinson, Dana Marineci
"Sacha Polack, as director and producer of this truly beautiful film has wrought a stunning piece of cinematic mastery"
---
Borderland
DIR: Brian Kirk • WRI: Ronan Bennett
TBA
An IRA member hunts for his wife's murderer, while also being tracked by the same killer.
CAST: Jamie Dornan, Sam Claflin
---