We take a look at some of the Irish films coming your way in 2023.
We'll update films, premieres, release dates and platforms and add reviews and interviews as they come in.
Lies We Tell ( DIR: Lisa Mulcahy • WRI: Elisabeth Gooch)
An orphaned heiress is forced to embrace her family's dark legacy.
CAST: David Wilmot, Holly Sturton, Chris Walley
---
Tarrac (DIR: Declan Recks • WRI: Eugene O'Brien)
Premuere at Galway Film Fleadh 2022
In cinemas 6th October 2023
A woman returns to her home on the Dingle Peninsula in Ireland's south west coast, where the film also shot, after her father suffers a heart attack. Here she finds herself returning to the competitive world of Naomhóg (a native Irish boat) rowing.
CAST: Lorcan Cranitch, Kelly Gough, Kate Nic Chonaonaigh
---
Ballywalter (DIR: Prasanna Puwanarajah • WRI: Stacey Gregg)
Premiere at Belfast Film Festival 2023
In cinemas 22nd September 2023
Eileen makes ends meet by working as an unlicensed driver in her ex-boyfriend's minicab. When Shane calls a taxi to get him to his classes, Eileen answers and a surprising connection is made.
CAST: Seána Kerslake, Patrick Kielty
---
Dublin Crust (WRI/DIR: Baz Black)
In cinemas 22nd September 2023
Worn Out, Played Out, Strung Out. 10 Years after Punk band Crust split up the band members lives have fallen apart. Drummer Bonehead has just been released from prison and sets about reforming the band for one last show.
CAST: Baz Black, Johnny French, Barry John Kinsella
---
Apocalypse Clown (DIR: George Kane • WRI: Shane O'Brien, James Walmsley, Demian Fox)
Premiere at Galway Film Fleadh 2023
In cinemas 1st September 2023
A troupe of failed clowns and an ambitious reporter embark on a chaotic adventure of self-discovery after a mysterious solar event plunges the world into anarchy.
Cast: David Earl, Natalie Palamides, Amy De Bhrún, Fionn Foley, Tadhg Murphy, Ivan Kaye
an unhinged road trip that embraces laughter-for-laughter's-sake

Naemi Victoria
---
Dublin Crust (WRI/DIR: Baz Black)
In cinemas 1st September 2023
Worn Out, Played Out, Strung Out. 10 Years after Punk band Crust split up the band members lives have fallen apart. Drummer Bonehead has just been released from prison and sets about reforming the band for one last show.
CAST: Baz Black, Barry John Kinsella, Johnny French, Joe Rooney, William Morgan, Rose Henderson, Gerry Cannon
---
The Future Tense (WRI/DIR: Christine Molloy, Joe Lawlor)
Premiere at Telluride Film Festival 2022
Streaming on MUBI from 23rd August 2023
Structured around a plane journey from London to Dublin, the latest essay film by Christine Molloy and Joe Lawlor finds the pair weighing up whether to move to Ireland from the UK, uncertain about where they would feel most at home.
---
Face Down – The Disappearance of Thomas Niedermayer (DIR: Gerry Gregg • WRI: David Blake Knox )
In cinemas 11th August 2023
On 27th December 1973, a nightmare began for an entire family. On that night, Thomas Niedermayer, Germany's Honorary Consul to Northern Ireland and the Manager of the Grundig Factory in West Belfast, was kidnapped from his home in Belfast. He was never seen alive again by his friends or family. He became one of the 'disappeared', and it seemed that no-one knew what had happened to him.
Based on the book FACE DOWN by David Blake Knox.
---
The Deepest Breath (DIR: Laura McGann)
Premiere at Sundance Film Festival
In cinemas 14th July 2023
A free diver trains to break a world record with the help of an expert safety diver. This film follows the paths they took to meet at the pinnacle of the free diving world, documenting the rewards and risks of chasing a dream through ocean depths.
honest, thrilling and emotionally charged

Jack Murphy
---
Sunlight (DIR: Claire Dix • WRI: Ailbhe Keogan)
Premiere at Glasgow Film Festival 2023
In cinemas 16th June 2023
A recovering addict is caring for his terminally ill sponsor.
CAST: Ericka Roe, Barry Ward, Lydia McGuinness, Maureen Beattie
fervent filmmaking at its finest with terrific lead performers

Liam Hanlon
---
406 Days (Joe Lee)
In cinemas 26th May 2023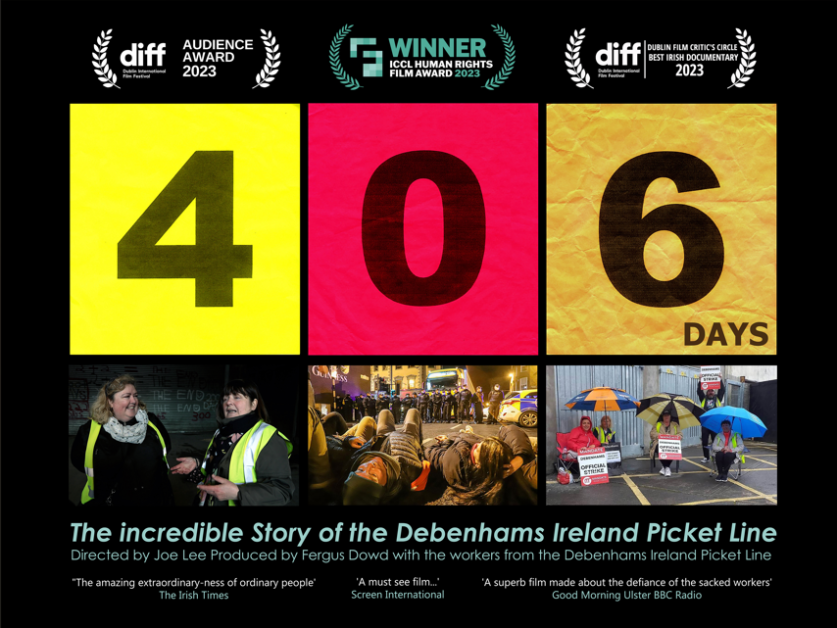 The film tells the story of the 1,000 Irish Debenhams workers who were made redundant through a generic email on the 9th of April 2020 after Debenhams UK Retail Ltd closed all 11 Irish stores including their flagship store on Henry St. Dublin 1. The workforce, 95% female, had been denied an earlier agreed redundancy package.
an incredibly evocative piece

Lisa Dempsey
---
Lakelands (WRI/DIR: Robert Higgins, Patrick McGivney)
In cinemas 5th May 2023
Premiere at Galway Film Fleadh
Cian is a young Gaelic footballer struggling to comes to terms with a career-ending injury after an attack on a night out. He undertakes a search for his own identity in a small town where Gaelic football is a religion, and identity is defined by what you can do on the pitch.
CAST: Éanna Hardwicke, Danielle Galligan, Lorcan Cranitch
"It's the performances of Éanna Hardwicke and Danielle Galligan that linger most in the memory"

– Stephen Burke
---
Who We Love (DIR: Graham Cantwell • WRI: Graham Cantwell, Katie McNeice)
Premiere at Galway Film Fleadh
In cinemas 28th April 2023
A film about coming of age and coming out, Who We Love tells the story of Lily and Simon, best friends who navigate the troubled waters of school life and explore Dublin's vibrant and sometimes dark LGBTQ+ scene under the sharp eye of reluctant mentor Oonagh. When a misunderstanding with the beautiful and popular Violet leads to a vicious attack, Lily is faced with the greatest challenge of her young life.
CAST: Clara Harte, Dean Quinn and Amy-Joyce Hastings, alongside Paul Ronan, Danielle Galligan, Norma Sheahan
---
Castro's Spies (DIR: Gary Lennon, Ollie Aslin)
In cinemas 28th April 2023
Premiere at Cork International Film Festival
Tells the story of an elite group of Cuban intelligence agents sent undercover to the U.S. in the 1990s. From their recruitment, training and eventual capture on U.S. soil; this film peers into a secret world of false identities, love affairs and betrayal. Using never seen before footage from the Cuban Film Institute's archive and first-hand testimony from the people at the heart of this story, Castro's Spies gives a rare glimpse into the shadowy world of a spy – where the stakes are life and death.
---
Pray For Our Sinners (DIR: Sinead O'Shea)
In cinemas 21st April 2023.
Premiere at TIFF
Confronts Ireland's recent history of brutality against children and women ranging from corporal punishment to state-sanctioned mother and baby homes.
---
Barber (DIR: Fintan Connolly • WRI: Fintan Connolly, Fiona Bergin)
In cinemas 14th April
Premiere at DIFF
Val Barber, a private investigator, is hired by a wealthy widow to find her missing granddaughter Sara. As initial investigations into her disappearance begin to darken, secrets surface in unexpected ways. Before too long, Barber finds himself entangled with powerful men of shady morals determined to thwart his investigations. Has he bitten off more than he can chew?
CAST: Aidan Gillen, Aisling Kearns, Gary Lydon, Helen Behan, Deirdre Donnelly, Liam Carney
an ambitious, accomplished film with a lot to offer

Gemma Creagh
---
LOLA (DIR: Andrew Legge • WRI: Andrew Legge, Angeli Macfarlane)
Premiere at Locarno International Film Festival
In cinemas 7th April 2023
2 sisters in 1940 build a machine that can intercept broadcasts from the future.
CAST: Emma Appleton, Stefanie Martini
Legge's distinct authorial voice continues to wow

Larissa Brigatti
---
God's Creatures (DIR: Saela Davis, Anna Rose Holmer • WRI: Shane Crowley)
Premiere at Cannes Film Festival
In cinemas 31st March 2023
In a windswept fishing village in Kerry, a mother is torn between protecting her beloved son and her own sense of right and wrong. A lie she tells for him rips apart their family and close-knit community in this tense, sweepingly emotional epic.
CAST: Emily Watson, Paul Mescal, Aisling Franciosi
---
My Sailor, My Love (DIR: Klaus Härö • WRI: Jimmy Karlson, Kirsi Vikman)
In cinemas 10th March 2023
Set on the beautiful Achill Island, off County Mayo it's a romantic tale of a second chance at love and the power of redemption. Becoming concerned about her father Howard (James Cosmo), Grace (Catherine Walker) hires a caretaker in the form of Annie (Bríd Brennan). As a result of his recluse nature, Howard initially rejects any help from Annie, but gradually the pair begin to bond, and Howard re-considers opening his heart to love and to be loved once more.
a warm portrait of love between two leads in the later stages of their lives

Gemma Creagh
---
The Artist & The Wall of Death (DIR: Maurice O'Brien)
In cinemas 10th March 2023
When Glaswegian performance artist Stephen Skrynka learns that a life-long obsession with building and riding a century-old fairground attraction, the 'Wall of Death', was shared with Michael Donohoe and Connie Kiernan (who built a wall in 1979 and inspired the film Eat the Peach), he heads to their farm in Granard, Co. Longford with an audacious proposal: construct a new 'Wall of Death' with him and take it on tour.
---
Atomic Hope (DIR: Frankie Fenton)
In cinemas from 17th February 2023
Could nuclear energy be the solution to the climate crisis? The film is an observational documentary which follows a tiny group of highly unpopular "pro-nuclear" activists who controversially believe we now need to urgently re-address our feelings on nuclear power if we are to have any hope of decarbonising our energy systems before the effects of catastrophic climate change wreak havoc.
---
Let The Wrong One In (WRI/DIR: Conor McMahon)
Premiere at Dublin International Film Festival
In cinemas 20th January 2023
A young supermarket worker discovers that his older brother is a vampire and must choose whether to save or slay him.
CAST: Anthony Head, Karl Rice, Eoin Duffy.
a playful nod-and-wink to the classics of the genre resulting in an entertaining romp of ridiculous gore, Irish jokes and practical effects –

Aoife Fealy
---
Dates TBC
Flora And Son (WRI/DIR: John Carney)
Premiere at Sundance Film Festival
Flora, a single mom is at war with her son, Max. Trying to find a hobby for Max, she rescues a guitar from a dumpster and finds that one person's trash can be a family's salvation.
CAST: Eve Hewson, Joseph Gordon-Levitt
---
Four Mothers (DIR: Darren Thornton • WRI: Colin Thornton, Darren Thornton)
A struggling novelist who is forced to take care of three eccentric older women – and his own mother – over the course of one chaotic weekend in Dublin.
CAST: Fionnula Flanagan, James McArdle, Niamh Cusack, Adam Fergus
---
Shame//Less (DIR: Stephen Quinn, Noel Donnellon, Luke Faulkner • WRI: Stephen Quinn, Thomas Strong)
Premiere at Galway Film Fleadh.
Shot in Dublin's iconic Boilerhouse sauna, Shame//Less transports the viewer on a kaleidoscopic cruise through Dublin's queer underbelly. The film invites you to peer through the glory hole of post-marriage equality Dublin and see if you like it like that. Does that feel good? How about there? Careful now, you might even enjoy it.
CAST: Stephen Quinn, Kiara Gannon, Luis Nogera, Pradeep Mahadeshwar, Niall Keane, Vickey Curtis, Day Magee, Andrew Deering, Meg Woods, Karl Hayden