In this Film Ireland podcast Gemma Creagh talks to filmmakers Annika Cassidy, Diarmuid Donohoe and Kamila Dydyna whose short films are screening at this year's Galway Film Fleadh (20-25 July).
The Wake (Annika Cassidy)
Three young brothers attempt to navigate their grandmother's wake when a bitter rivalry breaks out over who will get to say the prayers of the faithful at the funeral mass.
The Wake screens online as part of the Irish Talent: New Shorts One: Family Friendly Fiction at the 2021 Galway Film Fleadh from 21st July 2021. Tickets here.
---
Signal (Diarmuid Donohoe)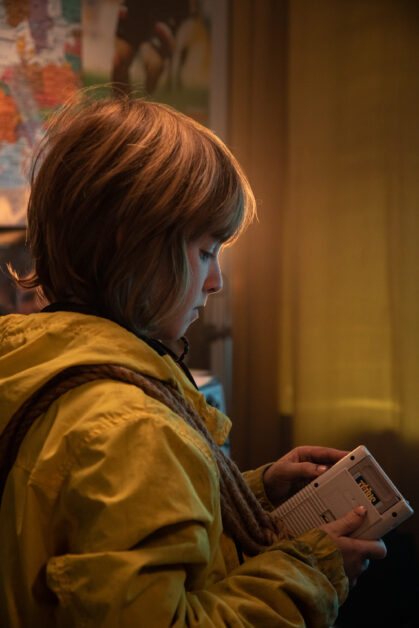 Two young boys set out to build a machine that can speak to the energy that created the universe. During a fight they accidentally break the machine and reveal the tragic story that had motivated them all along.
Signal screens online as part of the Irish Talent: New Shorts Four: Fís Éireann/Screen Ireland World Premiere Shorts programme at the 2021 Galway Film Fleadh from 23rd July 2021 at 2pm. Tickets here.
---
Debutante (Kamila Dydyna)
Debutante is a short drama set in the community of Irish Jehovah's Witnesses. 18-year-old Meg is struggling to reconcile her heartfelt commitment to the religion with the growing pain of shunning her father, a disfellowshipped member of the congregation. An evening alone with her boyfriend Sam, an equally devoted young Witness, turns into an emotional and sexual transgression. In an effort to repair her relationship with Jehovah, Meg attends a judicial committee hearing, where three well-meaning congregation elders shatter her carefully constructed world.
Debutante screens online as part of the Irish Talent: New Shorts Six: Fiction programme at the 2021 Galway Film Fleadh from 24th July 2021 at 2pm. Tickets here.
---
Filmmakers

Annika Cassidy
Annika Cassidy is an award-winning Irish director, with over 15 year's experience in filmmaking. Her directorial debut Peel, won the Rising Star Award at Irish Screen America Festival 2017. It has been broadcasted on RTE2 and it has now been adopted by Alcohol Action Ireland for their 2021 campaign; 'Silent Voices'. Her second short film The Wake, funded by Monaghan County Council and the Arts Council, written by Jonathan Hughes (Mother), stars Norma Sheahan (Moone Boy) and Senan Jennings (Vivarium), and has recently won the Audience Award at Clones Film Festival 2021.
Diarmuid Donohoe
Diarmuid (Derm) Donohoe is a Writer and Director with an eighteen year career spanning the games industry, advertising, screenwriting, animation and live action filmmaking. He is currently directing episodes for an animated series arriving on a new streaming service, due to wrap in August 2021, and has several film projects in development. Diarmuid currently resides in Dublin with his son Jack.
Kamila Dydyna

Kamila Dydyna is a Polish filmmaker and actress based in Dublin since 2007. Her debut short Testimony received multiple award nominations including IMDb New Filmmaker Award at the Bath Film Festival and a Best Director nomination at the BAFTA-qualifying Underwire Film Festival in London. Her short The Betrayal, featuring music by Nick Cave & Warren Ellis, Conor Walsh and Ryan Vail, premiered at the GAZE International LGBT Film Festival Dublin. Both films were picked up for broadcast on RTÉ. The Betrayal was also included in The Irish Times' list of the best TV programs of the week ahead of its 2nd RTÉ broadcast in 2019. Kamila's new short drama, Debutante, set in the community of Jehovah's Witnesses, will premiere at the 33rd Galway Film Fleadh in July 2021.
Her performances as an actress include Dear Ireland Continues @ The Abbey Theatre, My Name is Language @ Dublin Theatre Festival and Normal by Restless Ecstasy Theatre Company. Recently, she also contributed VO to The Visiting Hour by Frank McGuiness @ The Gate Theatre.
Tickets for all 45 features and 100+ shorts at his year's Galway Film Fleadh (July 20th – 25 July) are available to book from www.GalwayFilmFleadh.com.
Subscribe/Download/Listen