When time stands still and all around you shudders to a halt, we seek inspiration beyond our reality and find refuge in the magic of film. Taking us up into its arms and away into its dreams, film will forever be our saviour. Showing us the light that bursts forth from beyond the storm, film shelters all its children in its warmth and wonder and promise of other worlds. In film, we trust.
And so we take this opportunity to reclaim moments of a broken year and celebrate the films from 2020 that helped us stay safe and keep our faith in a better tomorrow. It's our annual massive list!
---
Stephen Burke
For obvious reasons 2020 was a year in which I saw fewer new films than any other prior. Despite this, I've decided not to include any that took their bow in Ireland this year but had already gone on general release elsewhere in 2019. These films (Parasite, The Lighthouse, Uncut Gems etc.) just feel to me like they belong to last year's slate. I thought this would leave me with a paltry or even sufficient number of entries but the standard of the new films that I did get to see has proven to be reassuringly good.
Tenet
In the midst of the dreadful year that was, Tenet found itself unfairly saddled with the responsibility of saving cinema as we know it. Such lofty expectations were never going to be met and in the end reviews were mixed with many taking aim at a plot they found to be unnecessarily confusing. When I finally got to see the film in September, this confusion kicked in quite early and just as I was about to dismiss the whole excursion as a failed return to the cinema post-lockdown, I was reminded of a lecturer who taught me in college. I recall him positing that at a certain point in some films it can be for the best that the viewer stops trying to work out exactly what is going on and that he or she just takes the film as an experience instead.
I approached the rest of Tenet with this in mind and in doing so I found the result to be quite exhilarating. While undeniably flawed in parts, overall I feel the film is one of Christopher Nolan's strongest works to date. There are some excellent set pieces featured throughout and Robert Pattinson is the highlight of an impressively assembled cast.
I'm Thinking of Ending Things
This is a film that might have stood out as being extremely weird if it had been released at any other time. For the calendar year that's in it though, it fits in seamlessly. The inimitable Charlie Kaufman takes a simple premise, that of a young woman meeting her boyfriend's parents for the first time, and ratchets up the atmosphere of dread and fear to such an extent that it's almost unbearable to watch… yet I couldn't look away throughout. An interior monologue from the main character is heavily utilized, which combines well with some nifty cinematography and a few truly bizarre musical sequences to create a movie that surely only Charlie Kaufman could make. The four main cast members are fantastic (Jessie Buckley, Jesse Plemons, Toni Collette and David Thewlis) but then again, aren't they always?
Babyteeth
Films about adolescents and young adults who are suffering from terminal illnesses have become almost dangerously in vogue over the past decade. The majority of these have meant well of course but the frequent over-saturation of forced sentimentality has typically detracted from the serious nature of the topic being explored. To be blunt, the approach can be rather annoying. The fact that Shannon Murphy's Babyteeth is the complete opposite of all this is one the reasons that makes it such a winner.
Instead of spending a large portion of the running time concentrating directly on the illness curtailing young Milla's life, Babyteeth instead uses this opportunity to focus on the relationship she has with her parents (Ben Mendelsohn & Essie Davis, both terrific as ever) and with the 22-year old drug addict she has recently become besotted with. When the inevitable does arrive it is far more moving and memorable as a result.
Babyteeth has a very Australian feel. It's difficult to explain exactly what this means in brief text without shortchanging that particular industry but trust me when I say that you will understand if/when you watch it. Lead actor Eliza Scanlen is quite brilliant and a real star in the making. Another successful graduation from Home and Away then!
The Trial of the Chicago 7
I always find myself conflicted with Aaron Sorkin's work. I'm a lover of great screen dialogue and that's Sorkin's bread and butter. However, as much as I enjoy his films, I often leave them wondering if his characters have spent a good 40 percent more time explaining things than was necessary. Let's not forget the first rule of screenwriting after all – show don't tell. There's another part of me that quickly counters this line of thought by reminding me I am actually a person who believes the laws of screenwriting are there to be broken.
Alas, I could go round and round on this.
In any case a legal drama based on real-life incidents, with about 80 percent of the film set in the courtroom itself, clearly plays to Sorkin's strengths. He keeps the story moving along well but I suspect this is more to do with the requirement to condense a five plus month trial into 2 hours (kudos to editor Alan Baumgarten) rather than any toning down on Sorkin's part. In general I found TTOTC7 to be an entertaining if somewhat flashy history lesson. It's important to note that I was only vaguely familiar with the real life story before watching and I would predict that a certain chunk of the audience's enjoyment of the film might depend on this too. A particularly interesting aspect of TTOTC7 is the fact that certain elements coincidentally prove to be very timely to 2020, not least the shocking scene in which a black defendant is forcibly gagged. This is probably the most powerful part of the film and thankfully it is handled the way it should be.
The performances are top notch with a starry cast. Mark Rylance is the best of the lot in my opinion but Sorkin does a good job in allowing each actor to have their moment. He also manages the sheer volume of such a cast in some clever ways, one of which is by reducing two of the titular 7 to near anonymity in terms of speaking time. This appears to be in keeping with the real life version of events, as it seems that two of the accused were nobodies, as it were, being used by the prosecution to heighten the notoriety of the remaining five.
Corpus Christi
Were it not for the masterpiece that was Parasite, this Polish offering may well have taken home the Oscar for best Foreign Film. Corpus Christi focuses on a young ex-con named Daniel, who experiences a spiritual awakening of sorts shortly before he leaves prison. Deciding his purpose in life lies in the priesthood, Daniel feels that his past transgressions will prevent him from ever becoming a man of the cloth. It's not long though before a series of (admittedly convenient) events lead to Daniel posing as the interim priest of a small parish.
Director Jan Komasa takes his time in letting the plot unfold but any pacing issues are offset by the dynamism of Bartosz Bielenia's central performance. This is a young actor who is confident and assured in his abilities. Certain aspects of the story are predictable (if you were thinking that Daniel's past will raise it head at some point you would be right) but I expect that most viewers will be forgiving of this especially as the film does not end on an obvious note. It's not my intention to come across as pompous but the likelihood is that most of the viewers who seek out this film will appreciate the fact that Komasa doesn't offer any easy answers with regards to the motivation of Daniel's actions or in relation to any potential redemption for him. There is also an authentically gritty feeling to Corpus Christi that would likely be absent if the screenplay had been tackled by those in Hollywood.
---
Sandra Costello
For my top five films of 2020, I've decided to go with an Irish theme and I'm delighted that not only are two of these films directed by women but also within each of them there is a least one female lead which, more often than not, has been severely lacking in Irish cinema.
Dating Amber
David Freyne's hilarious and charming dramatic comedy follows the relationship of convenience between Eddie and Amber; two closeted teens trying to survive secondary school. Amber is a highly logical and outspoken girl who knows what she wants and goes for it. Eddie is much less sure of himself as he forces himself into army training in a bid to please his father and assert his masculinity. Eddie and Amber's friendship becomes a path to freedom and a source of support that each of them is so desperately lacking. This film wonderfully portrays the differences that exist between those of us who don't quite fit into society's narrow expectations of us.
Wildfire
Wildfire is a beautifully complex debut film by Cathy Brady about two recently re-united sisters, Lauren and Kelly, who help each other come to terms with a past trauma. Kelly is continually referred to as being mentally unstable as she tries to work through her final memories of her mother. Lauren, upon being reunited with her estranged sister, is slowly pulled into a world dislocated from everyone else except her sister. This indescribable and impenetrable bond is aptly expressed in a captivating dance scene choreographed by real life sisters and award-winning Junk Ensemble. Set in Northern Ireland and right on the border, this film deals with national memory, mental health and healing in a new and powerful way.
The Castle
Three generations of Lithuanian women are cohabiting in a tower block in Dublin. Each is living in a very different world to that of the others. Jolanta fails to understand the strength of her daughter Monika's dreams while Monika lacks patience with regards to her grandmother's dementia. This sets up very complicated relationships between all three where little understanding of each other is achieved. Living in a foreign country and within a small space seems to only isolate them further from each other as they in turn appear excluded from the Irish community. Lina Luzyte's film effectively illustrates the many and complex layers of difficulty within the modern immigrant experience.
Pixie
Pixie is a road movie that doesn't take itself too seriously. Barnaby Thompson's film follows Pixie, Frank and Harland as they embark upon a journey to rid themselves of one-million-euro worth of MDMA. Frank and Harland are hilariously underqualified to be drug dealers as they believe their movie informed knowledge of the criminal underworld will see them become rich easily. Pixie, on the other hand, is far from naïve, growing up with a gangster stepdad in the form of an always exceptional Colm Meaney. Pixie is a delightful blend of violence and humour, highly reminiscent of the McDonagh brothers but perhaps more progressive.
Ammonite
Francis Lee's second feature film is not in fact Irish but does display the talent of two very impressive Irish actors, Saoirse Ronan and Fiona Shaw. Lee's follow-up to the magnificent God's Own Country has much in common with its predecessor containing an utterly captivating sound design that isn't afraid to supersede dialogue. There is also a beautiful fascination with the process of work which the actors become fully immersed in and this work becomes a compelling force of unification between main characters Mary and Charlotte. Based on the work of real-life archaeologist Mary Anning (played by the marvellous Kate Winslet), this film is a timely tribute to a disregarded pioneer.
---
Sarah Cullen
While it was far from a regular year for cinema in some ways I rather enjoyed it – with the paucity of studio releases I found myself looking further afield, something I would like to keep up in future. I will admit though, almost twelve months without cinema popcorn has made Sarah a hungry girl. No out-and-out turkeys either! So that must count for something. It was difficult picking just five films so I have some special mentions below.
Beanpole
Set in 1946 in Leninsgrad, Beanpole tells the story of two women who served in the Russian military, who are now trying to survive their PTSD in 's the aftermath of World War II. Kantemir Balagov's film is a stark and frequently painful examination of both post-war Russia and an exquisite relationship study of the two women Iya (or the eponymous Beanpole) and Masha, who struggle to find love, family and safety. The two leads admirably portray their chaotic and at times violent relationship, while the cinematography echoes those feelings, with splashes of sumptuous red and green bringing occasional glimpses of hope to an otherwise desperate field of greys, whites and browns.
Herself
This Irish feature was sadly postponed until (hopefully) 2021 outside of its festival debut, so I include it here in the hopes it will get some well-deserved attention when it does arrive. Phyllida Lloyd's film follows a young Irish mother who is determined to self-build a house for her family when she finds herself without any other options. It's a wonderfully tactile film as the script carefully and masterfully weaves the chaotic and disparate elements of Sandra's life together. Of course, at its heart, Herself is a film about, well, building a house. There's something fascinating and compelling about watching Sandra and family take their future into their own hands through timber, nails and concrete.
Palm Springs
It's not often that the genres of Comedy, Romance and Science Fiction converge in one film successfully (or should I say, in ways that I specifically enjoy), but Max Barbakow's time-bending romcom nails it. Taking some well-trod tropes from the fields, Palm Springs injects new life into the story of two strangers who meet at a wedding which may or may not be taking place in reality as we know it. The film does an impressive job of merging the characters' personal journeys with the sci-fi conceit, and I found myself rooting for their relationship; something this curmudgeon usually frowns upon. A very pleasant find and one to go in with as little knowledge about as possible!  
Violence Voyager
This Japanese animated feature was without question the most demented film I have seen in several years. I'm not even sure if "demented" is the right term, considering the film itself seems quite happy with itself: it's just the viewer that will end up demented. With a director known only as Ujicha, Violence Voyager employes the low-fi cartoon style known as gekimation, to tell the fairytale-styled story of a group of children who stumble across an all-but abandoned amusement park and end up being turned into humanoid robots. Beyond the unsettling gore and the existential horror, what makes it stand out in my mind is the child-like earnestness of the whole affair…
Lingua Franca
Directed by and starring Isabel Sandoval, this gorgeously shot film follows Olivia, and undocumented Filipino trans woman working as a carer for an elderly woman in Brooklyn. When the elderly woman's grandson comes to stay while looking for employment, they find themselves attracted to each other. Lingua Franca keeps the viewer at a distance through its wonderful cinematography, which lingers on the characters' faces but never quite discloses their inner thoughts. Sandoval's third feature deals with a lot of heavy subjects in a way that never eclipses the humanity of her subjects, highlighting the fear of so many people in the U.S. while still permitting moments of hope and levity.
Special Mentions:
Love Child: Eva Mulvad and Lea Glob's nail-biting documentary set over ten years about an exiled Iranian family attempting to find asylum in the U.S.
The Lighthouse: Robert Egger's cabin fever-inducing tale of two secluded lighthouse keepers – more of an immersive experience than a narrative!
---
Ali Doyle
Wolfwalkers
Enchanting with its Irish folklore and empowering for young girls with its message, it is an absolute visual treat of storytelling. Loved every single second of it. Watch this over Christmas with a hearty Irish plate of Christmas dinner leftovers on your lap, embrace your inner child, embrace your Irishness, let the magic sweep over you…
Wildfire
Grief, depression, loneliness and a struggle with mental health… they can be lurking there, under the surface, an ember just waiting to spark a fire and spread until there's nothing left. Cathy Brady encapsulates this in this truly powerful and poignant debut film with some incredible performances from Nika McGuigan, Nora Jane Noone and Olga Wehrly. This film will forever be a testament of proof that Nika McGuigan truly was a star, a raw and powerful talent.
Vivarium
My biggest fear is children, having children, minding children, being around children (legit) and Vivarium had me literally scrunched into a ball in the cinema chair, poking and prodding at the raw nerve of the fear of forced parenthood. As a horror fan, you know a movie works when it literally makes you feel disgustingly uncomfortable and suffocated. I felt like I needed to scratch my skin off. While this sounds negative, to evoke that kind of reaction you know it's something special (and horrifying). Vivarium is all of those things!
The Invisible Man
Elisabeth Moss – do I need to say more? I think what I loved most about The Invisible Man though was it had a very clear, important and overt message, it never wavered on entertaining its audience. It was so well technically crafted that it was able to both deliver wholly on its commentary in speaking out against domestic violence while also engaging and entertaining an audience. The balance between storytelling and the message was cinematically skilful. I find a lot of contemporary movies sometimes get caught up in the message instead of telling a story and making the characters work. Opening a dialogue about Domestic Violence is so important and the film is a perfect way in which to open these conversations and I truly think The Invisible Man did this in a really smart, cinematic way!
Tenet
The only reason I am adding this to my list is because for me, like many others, I was starved of cinematic experiences. I have watched more TV than film this year and that's a strange thought. Tenet was the first film I saw in the cinema in a Post Lockdown world and it catered to every cinephile need and whim I had been missing for months. I was enjoying every second of it so much I allowed myself to leave that "pretentious film" part of me go and I just stopped trying to understand the movie and instead just sat back and enjoyed the experience of the movie, of being in a cinema because truly in that moment I didn't know when I would get to the cinema again, when you never knew what tomorrow would bring.
Also a very special mention for Dating Amber, a really fun and fresh exploration of sexuality following the life of two teens in the '90s as they try to tackle 6th year in secondary school by dating each other (aka being each others beard) all the while exploring their own sexuality and learning to be okay with themselves. There are some stellar performances from Lola Petticrew and Fionn O'Shea and it is a delightfully Irish romcom, filled with howls of laughter and at its core a heartwarming journey of two young Irish kids trying to find peace and acceptance within themselves at a time when being gay wasn't as accepted as it today. It's fun and beautiful and defo worth the watch!
---
Conor Dowling
This list is about as strange and varied as the year the films were released in. While I've yet to see most of the films I've been looking forward to like Soul, Last Night in Soho and Saint Maud, and been underwhelmed by ones I was excited about like The Wolf of Snow Hollow and Black Bear, these are the ones that left an impression.
The Invisible Man
This was the last film I saw in the cinema before the first lockdown kicked off at the end of March/early April. Having recently re-watched the original version, I was impressed to see how Leigh Whannell managed to take a very simple and unsatisfying concept into the twenty-first century by telling a technologically advanced story about domestic violence and control. Elizabeth Moss carries the film with a tense, paranoia-filled performance.
An American Pickle
A brilliant setup, a slight mismanagement of the premise in the middle but an ultimately touching, fun and irreverent film from the mind of Simon Rich. Films where actors play a dual role are few and far between and the good ones are even more rare, but this HBO Max release was a welcome splash of humour and madness in a year of insanity.
Host
The zoom-based horror feature film by indie horror filmmakers Rob Savage, Jed Shepard and Gemma Hurley, made during lockdown in the UK is the Paranormal Activity of this decade. Watching the horror world take notice of these indie filmmakers after the Shudder release and their subsequent three picture deal with Blumhouse has been a staggering testament to the potential of zero budget filmmaking and innovative use of one's time, resources and imagination.
The King of Staten Island
Judd Apatow gave another young comedian the chance to tell their story through celluloid this year with Pete Davidson's semi-autobiographical comedy drama. Despite being an often lackluster performer on SNL, Davidson showed real depth as an actor alongside Bill Burr, Marisa Tomei and Maude Apatow.
Tenet
The first film I saw in the cinema (IFI 70mm) right after the second lockdown ended in December. I was initially excited about Nolan's latest offering, but after a lot of mixed reviews, my expectations were low. Though Tenet is a long, confusing and sometimes even boring film, I still came out of the cinema feeling like I had been in the presence of something special. I would be lying if I said I fully understood the film, but I felt that Nolan truly did understand what he was doing, and that alone is impressive. What he achieved on a purely technical level is a miracle of filmmaking let alone the ideas he weaved through the philosophy and sci-fi of the narrative. Whether you enjoyed the film or not, Tenet was one of the best films of 2020.
---
Richard Drumm
Birds of Prey
In a year with a (not unwelcome) break in comic book film releases, it was refreshing that one of the only major ones to slip out before you-know-what took over our lives was this decidedly left of center, violent comedy about learning to love yourself. Coasting by on a deranged, hungover energy, it dares to actually have some fun in Gotham City without abandoning a sense of visercal danger. The cast are all faultless but Margot Robbie's frankly unnecessary level of commitment to playing Harley Quinn is the film's glitter and cocaine filled beating heart.
Relic
Continuing to prove that if you want top of the line horror, look no further than our antipodean neighbours. Relic travels in similar thematic waters to Hereditary but with decidedly less bombast and – to this viewer's eyes – a much more successful sticking of the landing come the final moments. If its just horror you want, it's consistently, quietly creepy and escalates nicely. But be prepared for an unexpectedly touching and emotionally gruelling look at grief, dementia and biological inheritance.
Parasite
Feels like an almost obligatory inclusion. And what, really, at this point is there left to be said about it. It's very entertaining. You should watch it if you somehow haven't already. I shall instead use this space to mention several other "only came out here in 2020 but are really 2019 movies that are nonetheless worthy of inclusion on this list": The Lighthouse, Uncut Gems, Little Women, Portrait of a Lady on Fire. Watch them all.
Saint Maud
On the surface, its a bleak little tale of a sad and broken woman who has turned to jesus to fill the gaping holes in her personal life and pull down the gaint red warning flags in her mental wellbeing. But it's also a little bit creepy. And more than a little intriguing regarding how much of what we're seeing may be real. And that's to say nothing of the subtle strain of pitch black humour running throughout. It's certainly an odd film that absolutely has its bleaker moments but it's relentlessly engaging – and dare one say even a bit fun – grounded by two supremely watchable and committed leads.
I'm Thinking of Ending Things
Indescribable. Near impossible to categorise. And good luck offering a summary that would make it sound appealing. Indeed saying "what it's about" in any clear terms feels like it would constitute a spoiler of sorts as puzzling your way through this surreal drama about a relationship is half the – one could argue – fun. A frustrating, engrossing, occasionally devasting, infrequently creepy and consistently enthralling piece of work from Charlie Kaufman anchored to something resembling relatsbility by an ever reliable Jesse Plemons and a truly astonishing display of range from Jessie Buckley.
---
Paul Farren
Films of 2020 I saw that I enjoyed were:
Extra Ordinary a fun and nasty supernatural comedy, daft , mean and silly and oh, that's it really.
Films of 2020 I saw that I didn't enjoy:
Tenet. Didn't do anything for me except for the soundtrack, Kenneth Branagh was vaguely amusing in his offensive Russian madman role
Mulan was a joyless piece of nonsense that had me rushing back to the animated version, just so I could get a load of Eddie Murphy's dragon character.
Films I know I'd have liked if I had seen them (and hope to see soon):
Let Him Go. A gothic thriller starring Kevin Costner and Diane Lane, on a quest to get their grandson away from a family of psychotic mid-west types.
Wolfwalkers. Another adventure in Irish mythology from the brilliant Cartoon Saloon
Bill & Ted Face the Music, because it has Bill & Ted in it.
Why Don't You Just Die! A Russian film which delves into the Tarantinoesque world of uber violence and black comedy. These guys don't even feel the need of a question mark in their title. How badass is that!
---
Shauna Fox
Emma
Funny. Modern. Sumptuous.
The Trial of the Chicago 7
A gripping story told excellently through the amazing actors on screen. This film will get you riled up over the injustice of a corrupt system.
Enola Holmes
I'm a big fan of many of the recent visual adaptations of Sherlock Holmes. Enola Holmes was a refreshing take, with a different perspective; and I very much enjoyed and appreciated the feminist vibe throughout.
The Old Guard
Charleze Theron being a badass. Need I say more?
42 – The True Story of an American Legend
While I know 42 is not a new release, I watched this movie for the first time soon after hearing of Chadwick Boseman's death. On screen Boseman played many legends, from Jackie Robinson in this film, Thurgood Marshall in Marshall, to Black Panther in multiple Marvel movies. I wanted to add this to my top 5 list as a nod to Boseman; this was the first movie that put him on the map, and it's not hard to see why. Chadwick Boseman was an amazing actor, and the world didn't get to see enough of him. The lack of his presence on screen in the future will be a huge loss.
Certified 'Rotten': Mulan (2020); Jingle Jangle; 365 Days – all movies have the same problem…a bad script!
Notable mentions: Dark Waters; Eurovision Song Contest: The Story of Fire Saga
2020 has been a better year for television rather than movies, and I've watched some excellent series this year. Here are some I would recommend if you haven't watched them already: Normal People (BBC). The Crown (Netflix). Emily in Paris (Netflix). The Queen's Gambit (Netflix). Lucifer (Netflix). Hollywood (Netflix). Upload (Amazon Prime)
---
Steven Galvin
Possessor
Andrea Riseborough haunts the screen in Brandon Cronenberg's creepy concoction of a mind-melding assassin. The hallucinatory psyche invasions are stunningly beautiful and play out as nightmarish interludes in between brutal acts of gruesome violence. A suitably eerie soundscape scratches at the door. At times it feels like Cronenberg himself is the assassin and we are his host as he forces his way into our heads and we take part in a gruesome fantasy. What a lot of fun.
Sorry We Missed You
A heartbreaking study of the destructive effects of a dangerous economic trend. A family is ripped apart by the vagaries of modern employment and struggle to cope while sinking deeper into debt. A masterclass from a master filmmaker, Sorry We Missed You will put a fire in your belly and a tear in your eye – where's our Ken Loach?
Wolfwalkers
Cartoon Saloon's final instalment of its Irish Folklore Trilogy is a luscious and lyrical visual tale of the heroic quest. Every frame is rich in detail and lit up by an orchestra of colours dancing across the screen. An absolute whopper of a cinematic experience. If film is moving pictures then Tomm Moore's animation is moving stained-glass windows. Cough, cough… Oscar.
Never Rarely Sometimes Always
A moving portrait of a lost soul in modern America. A teenager travels from a small town to New York to have an abortion, with her cousin alongside her for support. Their friendship proves to be the beating heart of Eliza Hittman's low-key, powerful and poignant drama. The subtle ebbs and flows of the narrative are beautifully composed and set-out around its devastatingly tender titular scene.
The Assistant
An utterly captivating and depressing study of a day in the life of an assistant at a film production company who becomes the viewer's eyes and ears into a murky world of power dynamics, sexual abuse and the enabling culture of complicity and silence. Kitty Green's tight direction and writing lends a cold understated truth to events, which makes this all the more evocative of the grim reality of everyday toxic environments.
Liam Hanlon
And Then We Danced
From the initial production struggles and anti-LGBTQ+ protests at its premiere in its native Georgia, Levan Akin's film about two male traditional Georgian dancers escapes from its external sociopolitical shackles on-screen and it's a joy to experience. Levan Gelbakhiani's performance as Merab is mesmerising, especially in a sequence set to Robyn's 'Honey', and it was a film I didn't want to end.
Dating Amber
2020 did necessitate a cinematic tonic in the form of David Freyne's Dating Amber. Having riled the masses as Jamie in Normal People, Fionn O'Shea earns our sympathy here as Eddie, whose insecure internal masculinity is challenged by the tour de force of a performance by Lola Petticrew's Amber. Freyne, O'Shea and Petticrew are three components of Ireland's ever-exciting cinema/tv future and I hope the film will also serve as an LGBTQ+ educational tool (especially for schools). It's entertaining and powerful in its bucket loads.
Babyteeth
This was powerful filmmaking and presented in a cinema vérité style that makes you feel like a voyeuristic fly on the wall in a family unit dealing with cancer. Eliza Scanlen's Milla is the adolescent cancer patient here who encounters a charming ruffian called Moses (devilishly played by Toby Wallace) and how her life is transformed during her cancer journey. It has plenty of sincerity, emotion and humour and Ben Mendelsohn offers one of the most subtle gut-wrenching facial expressions I've ever seen.
Summer of 85
From the second Summer of 85 begins with The Cure's 'Inbetween Days' I was hooked. Francois Ozon's latest offering is a tale of summer love that is a tonal cluster that shouldn't cohere but easily did for me. It's heartbreaking; it's heartwarming; it's darkly-hilarious. Félix Lefebvre and Benjamin Voisin offer kinetic chemistry and performances as Alex and David and the soundtrack featuring Bananarama's 'Cruel Summer' and Rod Stewart's 'Sailing', which is an important narrative element, were aurally welcomed by me.
Calm With Horses
I foolishly assumed this was going to be another typical gangland genre template of a film. Instead, Calm With Horses relies on nuance and its use of a vast Irish rugged landscape permits a focus on internal crises of faith. The film has a terrific soundtrack by Blanck Mass and has typically-impressive performances by Niamh Algar and Barry Keoghan. Although, with his powerful minimalism and restraint, Cosmo Jarvis as Douglas 'Arm' made this film for me and is one of my standout performances of 2020.
A Commendable 2020 Offering:
Tenet
Despite not being able to hear most of the dialogue and being generally perplexed at Christopher Nolan just trying to out-Nolan himself, I'm glad Tenet hit the big screen. It wasn't the cinematic saviour that the cinema industry required but hats off to Nolan and Warner Bros. (before they decided to push 2021's tentpole films to streaming/cinema simultaneous releases) for releasing this film in a tumultuous year for cinema.
---
Daniel Kiniry
Uncut Gems
The Safdie Brothers have gone from strength to strength in their careers, and this may be their best film. Surprising for more reasons than showcasing Adam Sandler's acting chops, it's a pulsating thrillride from start to finish, taking you into the world of a man who never truly knows how to quit. Their usual impeccable understanding of rough-around-the-edges composition and moody, pulsating scores guides you into a nail-biting climax.
Vitalina Varela
Pedro Costa finds the untapped poetry in the social ails as a woman separated from her husband for 40 years after he emigrated finally makes it over only to find out he died. It's sombre and dreamlike tone and aesthetic brings you into this depredated and forgotten world as the title character reflects on her life via flashbacks and contemplating where her new situation takes her. Contemplative, achingly slow but spellbinding to witness, there's something quite cathartic about staring into the despair of the unknown in 2020.
Never Rarely, Sometimes Always
A young girl goes on a road trip for the cheeriest of reasons: she needs to get an abortion in another state without her parents' knowledge. A deft and uncomfortable tale of discovering and having your place in the world as a woman restated by public interactions and private revelations. The two girls are fantastic here with very natural chemistry and a believable bond, and the doctor's office scene is one of the most devastating scenes in all of cinema this year.
The Assistant
It's been a good year for women asserting how much it sucks living under patriarchal standards, and this is the best. Arguably the first great post-#MeToo film, it tells the day of the life of an assistant to a powerful Hollywood mogul and her discovering less than rosy things about her boss. That claustrophobic anxiety is palpable, and it effortlessly skewers the culture of silence and how powerful men are utterly shielded due to the bottom line. Excellent use of time spanning, and forthrightly honest about the consequences, and often futility, of doing the right thing
I'm Thinking of Ending Things
Charlie Kaufman went against type-slightly-to direct something more horror-like in its presentation. And, like all good anxiety attacks, it moulds from horror into showtunes into tragedy. Hitting a lot of the celebrated filmmaker's usual themes (identity, imposter syndrome, lifelong regret, existentialism), it moulds them into a waking nightmare with ebbs and flows that takes you on a journey both mundane and yet endless. Perplexing, cleverly presented, with some unnerving sound design and narrative turns and unlike anything else I've seen this year. I expect nothing less
---
Marija Laugalyte
Portrait of a Lady on Fire
This film is a mesmerising love story of great depth that pulls you into the lives of several women in 18th century Brittany. At the forefront, we have two young women, Héloïse and Marianne, with radically different lives whose fate's collide with erotic force, spinning not only a great romance but also a community of women whose lives are enriched and find meaning through each other's company. This film, as other Céline Sciamma films, show an honesty, seriousness and erotics in women's relationships with one another that is commonly absent from the screen and from mainstream culture more generally, but that is nevertheless a potent potentiality that underpins the space between women.
The Woman Who Ran
An exploration of togetherness and solitude, intimacy and loneliness, connection and disconnection. This film depends on tête-à-tête dialogue scenes between the main character and the friends she visits. The drama here is an internal one, concealed by the surface of small talk and polite conversations that nevertheless emerges through tentative inquiries into the bigger questions plaguing the characters' lives. There is something about this film that catches your attention and holds it long after the film ends, surfacing questions of how we experience contemporary social life, aloneness and togetherness; how we both trust and distrust one another to be ourselves in other's company.
Mank
David Fincher's film about the writing of the Citizen Kane script brings you into the early years of Hollywood studios, and like a gossiping film fan, fills you in on all the scandals and politics behind the scenes. With a slow pace, and instead of suspense, the film offers the viewer intrigue and interest about Hollywood's past, its studios, and the figures that made all that show business happen. Its core focus is of course, screenwriter Herman Mankowticz, the wit whose writing characterised much of Hollywood 1930s films, and his writing of Citizen Kane. This is a masterful portrait of a talented, good-hearted, but destructive man. One of the attractions of the film is how it uses editing styles and lighting of the 1930s era so that we do not just get a black and white filtered film, but a recreation of various film techniques, especially those used in Citizen Kane itself. This film is a real treat for classical Hollywood film fans.
The Castle
A gem about Eastern European migration of the 21st century and one of a few films beginning to explore this little traversed territory. It draws together psychological realism, the absurd and allegorical storytelling to give an idea of the economic and existential questions Eastern European migrants reckon with. The subtle storytelling and evocative performances amount to a beautifully crafted film that will both frustrate and enchant. A small film, but a favourite for its topicality, its execution and for its pioneering subject matter that allows this author to get a rare glimpse of her own experience onscreen.
Ema
The Chilean Pablo Lorraine film, rather than Emma, the Jane Austen adaptation, finishes this list. Through its spectacles and rhythms of Reggaeton – the music and dance that gives this film its distinct feel – Ema can best be described as a visual and aural seduction (a characterisation that serves both the film itself and its protagonist). But more than just a seduction, this film is an artistic expression of the 'Chilean spring' of the last two years. Through an unconventional familial drama/dance film, the frustrations, protests and envisioned new beginnings of the country spill out and capture us in its current. Underpinning the street dancing, the familial moral dilemmas and the hypnotising soundtrack, this is a film about the emotional life of a country in struggle.
---
Nial McGlynn
2020 eh? Despite all of it's ups and downs (mostly downs) there were so spectacular films released. I know quite a few of my favourites were celebrated last year by US critics who avail of more immediate release dates so bear with me! I'm late to the party but I've brought beer for everyone!
Kajillionaire
Miranda July's return to directing was a total surprise and a real treat. Following a family of incredibly unambitious con-artists the extreme deadpan tone and wacky characters may be off-putting but they're both in service of a very point. What do you do if you realise the people who're meant to have your best interests at heart don't care for you at all? How can you give love if you've never had it? Evan Rachel Wood is superb as Old Dolio (the origin of this name is hysterical) and the rest of the cast bring their A-game. For the price of admission, it's a steal.
Parasite
Yes, yes Parasite is good. Although recognised by press, pundits and most shockingly the Academy Awards as a great film I still feel the need to clarify: it's THAT good. Bong Joon-ho's wealth disparity parable took the world by storm thanks to the precision and clarity of his craft as well as the outstanding ensemble cast. From brilliant comedy to some terrifying imagery worth of a horror film Parasite feels like the film Joon-ho has been working towards his whole career
A Hidden Life
Terrence Malick has become a divisive figure since his Tree Of Life success back in 2011. To The Wonder, Knight of Cups and Song to Song form a trilogy balancing spirituality and modernity and while I'm a fan I cannot disagree with the common complaints. It seemed that Malick's period films were where his greatest triumphs were and with A Hidden Life he began to move forwards by going backwards. This stale of defiance in the face of overwhelming evil may be too long for some but if you can gel with Malick's hypnotic pacing you'll be swept away with his trademark gorgeous cinematography and poetic voice-over.
Portrait of a Lady on Fire
Queer yearning in cinema has become very trendy as of late, the sadder the better. Céline Sciamma is no stranger to this, having already explored the topic in her earlier brilliant film Water Lilies. However like Malick her stylings flourish in a period setting, as the tale of a painter falling in love with her muse unfolds. Here the gaze is everything, as Marianne tries to study Héloïse we are forced to do the same, creating a dynamic with the screen that is engaging and so unique. From the beginning we know this is a doomed affair yet from first kiss to the cacophonous conclusion we can't help but hope.
Uncut Gems
This film released in January yet somehow has managed to represent the chaos, bafflement and stress of the year in a way that's still incredibly enjoyable and hysterically funny. Despite Punch-Drunk Love and The Meyerowitz Stories the world decided to forget what a brilliant performer Adam Sandler can be and his turn as sleazy jeweller Howard Ratner is so striking, hilarious and pathetic yet somehow very winning? As he escapes loan sharks in his efforts to auction off an ill-gained black opal the lack of communication leads to increasingly stressful situations, resulting in an unforgettable conclusion. Has any line from this year been as astute as "I'm so sad, I'm so fucked up"? Maybe but I don't think there's a single line I've quoted more. The Safdie brothers truly stole my heart this year and I'm fully in for whatever neon-drenched New York odyssey they have planned next.
For more of my favourite films this year check me out at letterboxd.com and throw me a follow! Would love to hear what everyone's been watching.
---
Aoife O'Ceallachain
Parasite
I haven't seen many 2020 films but i saw this twice- once in black and white! Fabulous cinematography, editing, set design and class critique? Take my money.
Sea Fever
A fishing crew is stranded at sea when their ship is attacked by an other-worldy parasite. Surprisingly, parasites are in vogue this year. A few ADR bumps at the start put me off but once you get through that, it's a gem of a film. Hope it gets another run in the cinema after covid.
Waves
About a high school wrestler whose father puts him under too much pressure to achieve: tragedy ensues. Well worth a look. Structure gave me Native Son vibes
Tales of the Unexpected
Covid has driven me to this. Dramatisations of Roald Dahl stories, every 25-minute episode is it's own story with a twist ending, some you can guess and some you'd never see coming in a million years. It's like a time capsule with some incredible lines and hammy acting. Love love love. Here's how Dahl introduced an episode featuring Joan Collins in a wet t-shirt: "The possibility that a large woman might one day swallow a small clergyman is one that has always appealed to me."
Turkey of the year
Promising Young Woman
Carey Mulligan seeks retribution for her friend's sexual assault by seducing guys at bars and not sleeping with them. A comedy/thriller about a woman's road to recovery after trauma. I thought a female writer/director would understand the nuances of depicting sexual violence. Absolutely not! Not quite comedy, not quite thriller, this film is a great disservice to victims of sexual violence. Had to walk out 10 minutes before the end.
---
Sean O'Rourke
Bad Tales
The D'Innocenzo Brothers' surrealist nightmare puts a spotlight on horrific cycles of economic failure, toxic masculinity, and trauma. Bad Tales expertly depicts, through its excellent, oppressive direction and excellent performances, especially from child actors, the dreams of its suburban community melt away in the stifling heat of summer in ways funny, heartfelt, and cruelly dark.
Wildfire
Another film about cycles, this one about generational trauma in Northern Ireland. Cathy Brady's insightful film charts a number of complicated relationships, none more powerful than its wonderfully realised central relationship, played by Nika McGuigan and Nora-Jane Noone. Nika has tragically passed since filming, but her work with Cathy and Nora-Jane powerfully and memorably solidifies her tremendous talent and passion for her art.
Siberia
Siberia is full of sublime imagery, often dipping straight into horror only to emerge again and offer you yet another genre-bending perspective on its main character's physical, psychological, and spiritual struggles. It is (and I mean this in a good way) as unpredictable and mystifying a film as you'll see this year.
Little Women
Some period pieces, especially the ones tackling oft-adapted source material, have a tendency to remain a bit caught up in the pageantry of depicting various historical periods (often to great effect, it must be admitted). What film's like Greta Gerwig's Little Women have done is to drag the period piece out of the pageantry and ensure that powerful source material does not lose its power in adaptation. This excellent film powerfully comments on women's place within our patriarchal social structures, highlighting those themes that have made the novel continually resonant through a complex yet elegant plot structure and creating one of the most powerful renderings of aromanticism put to screen.
Portrait of a Lady on Fire
I technically had this on my last last year… but I suppose it only came out in any kind of wider release this year and after all it's Christmas so I'm going to treat myself. If there's any justice in the world, Céline Sciamma's Portrait of a Lady on Fire will go down in film history as one of the all-time greats. It's a period piece that makes me angry at the world we live in, sorrowful about our past and the stories that have been denied to us by the gatekeepers of history, yet hopeful for the future, and more cognizant of art's place in imagining better futures. It's a work I love deeply and I think you will too.
---
James Phelan
Saggart? I'm still only in Saggart? Every time I think I'm going to wake up back pre-Covid. How many months have I been in this room? Waiting for a mission. Getting weaker. Every second I stay in this room I get softer. Every time I look around the walls shift in a little closer.
And then the old email machine blinks into life. An order passed down the line from high command. The missive landed like a missile. It made no sense. Our great leader Galvin has gone all Kurtz at the top of the river. This is spam. A hack. A joke…
And then the edict comes again. As if to confirm his insanity. He wants a list of five best films in a year with barely five film releases. This is madness. Unfiltered. Unadulterated.
But then I thought about it. And it struck me. The genius of it. The sheer audacious simplicity. Galvin is trying to galvanise us. To fight against the dying of the cinematic light. And he's right. This isn't the year to abandon tradition. We don't pander to this pandemic.
I may be an errand boy but boy – I had my errand. He asked for a list and for his sins – he got one….
In such a disjointed erratic year, it's understandable that the net would be cast far and wide to generate a top five for the year. I'm actually going to constrain myself to the narrow window when films graced the inside of cinemas.
Jojo Rabbit
I made a bold prediction last year that this film that opened the year wouldn't be topped. And though it's the definition of a self fulfilling prophecy – I feel vindicated. In fact, I think a full slate of films for the year wouldn't have dislodged it in my affections.
An entire faction of critics was far too eager to clutch their pearls at the boldness of the premise. Talk about missing the point. And there's so much to miss out on. If you can't find a comedic slant on a country where myopic madness has taken hold, you haven't a funny bone in your body. And Taika Waititi currently has the funniest skeleton on the planet.
The young cast needed to be real discoveries to carry the film and they are. On the lunatic fringes, Sam Rockwell is in vintage form and Scarlet Johansson has never been better. She probably should have won the Oscar and the film shamefully emerged from award season with only a token sprinkling of trophies. It will just have to settle for being an all time classic instead.
The Invisible Man
Another stellar year for Blumhouse productions. Naturally, it was these nifty shrewd operators who showed Universal what to do with the classic monsters they own but have no idea how to use. They do now. Thanks to a genuine nerve shredder soaked in quality with Elizabeth Moss excelling as an domestic abuse survivor convinced that her possessive husband is still around. The sense of omnipresent surveillance and threat struck a chord and insured the film had genuine intellectual weight outside mere genre excellence.
Every creative decision is exquisite with a slow subtle build that exploits acoustics and apparently empty frames to generate tons of tension. By ratcheting down, small moments became massive. When a knife falling off a counter is augmented by the absence of the sound we should expect, the effect was petrifying.
Onward
Damn. If memory serves this film ran straight into the brick wall that was the initial lockdown. It deserved a better fate and though it will be enjoyed and celebrated for generations to come, it may never join the upper echelon of Pixar efforts.
And it deserves a spot at the top table. A heartfelt notion sits at the centre of the film – the chance to spend one day with a deceased parent. But getting the spell half right proves problematic when two elf brothers only manifest the rather inexpressive lower half of their father. The adventure is full tilt though with a slayer of an ending that even bucks screenwriting formulas.
Parasite
The film that managed to live up to the hype – just about. Considering the wave of accolades and acclaim it was surfing on when it finally landed on our shores.
A family of con artists think they have the ultimate long con – but how long can this con go on? About two and a half hours apparently. But the audience felt like the only winners as rich and poor are pitted against each other in a house that oscillates between paradise and prison.
The Hunt
Boom. It's only bloody Blumhouse again blowing the doors off the uncivil war raging inside the US. This visceral dissection of the polarised divided states of America slipped out into the world like an afterthought when it should have been at the forefront of our thoughts.
The premise is actually a genre staple bordering on cliché. Superficially, the film looks like wealthy thrillseekers hunting the most dangerous prey of all – man (and woman). The cleverness on show is a slow reveal but the film revels in skewering both liberal and right wing agendas and attitudes. A sublime Betty Gilpin acts as the fulcrum around which the chaos reigns. Her unruffled acceptance of her new reality is an unfurling joy to behold.
The wish fulfilment of plunging keyboards warriors and conspiracy nuts into the middle of a nutty war zone is a dark delight. It's a film that is easy to dismiss because the satire it contains is drenched in blood and littered with body parts. These days taking aim at everyone is bloody fair game.
That's not a bad list for roughly one sixth of a year. I didn't really set foot in a cinema in March and thereafter. So 2020 was probably destined to be a cracker based on that start.
Best of the Rest
Tenet
Alright, I understood about one tenth of it. I didn't even catch the meaning of the damn title but I was still grateful a new Nolan film rocked up. He certainly doesn't condescend to audiences but based on this – maybe he should. Just a little.
Anyone not armed with a PHD in quantum physics may have struggled to keep up with a plot that needed constant yet impenetrable explanation. Yet it was a hit of pure cinema. The kind of sensory spectacle that will reel us back to the picture houses when this virus is just a bad memory. Considering the restrictions it was released under, its global box office haul was admirable and impressive.
Worst Film of the Year
It's been a tough year all round so no need to kick anyone when we're all down.
---
Stephen Porzio
Parasite
If only all films were this contemporary, funny, tense and unexpected. Parasite takes the themes of class division that have run throughout Bong Joon-ho's sci-fi work like The Host, Okja and Snowpiercer and places them in a recognisable, rooted in reality environment. The result is urgent and somehow even more thrilling. At the same time, Song Kang-ho cements his position as one of the world's best actors, delivering a devastating character arc almost entirely through silence and subtle facial expressions.
Portrait of a Lady on Fire
For as much as cinema is obsessed with romance and sex, few films crystalise the ecstatic highs and crushing lows of a passion-filled first relationship as well as Portrait of a Lady on Fire. Partly, it is down to Celine Sciamma's incredibly perceptive script. Partly, it is down to her flawless leads Noemie Merlant and Adele Haenel, who together with Sciamma, manage to capture through subtle smiles, long gazes and stolen touches what it feels like to fall in love. Add in an 18th century gothic setting and all the ingredients are there to melt the hearts of even the most cynical.
Uncut Gems
With Uncut Gems, directors Josh and Benny Safdie applied their love of New York grime, cinema verité filmmaking and dark comedy to the tried and tested formula of the two hour plus crime epic. Aided by a revelatory turn from Adam Sandler, the end product was a breath of fresh air – working equally as a white-knuckle thrill ride, a character study about a compelling but ultimately destructive man and another textured, vibrant portrait of the Big Apple's sub-cultures.
Ema
Featuring extended acrobatic dance sequences, flamethrowers and a whole lot of sex, Ema is a film so exciting, so thrilling that it feels borderline dangerous. In some regards, the film from the Chilean filmmaker Pablo Larrain breaks the rules. The screenplay is not "show, don't tell" but rather "show and tell". Its characters are unpredictable and hard to understand. Yet, those qualities are what make the movie feel so exhilarating and freeing. Ema is less a drama than a sensory experience, one which bombards viewers with a pulsating score from Nicolas Jaar and stunning visuals.
Babyteeth
Boasting a star making turn from Eliza Scanlen, Babyteeth is the coming-of-age cancer drama you have seen before but turned on its head. Eschewing endless hospital scenes, it mostly stays in domestic spaces. It focuses on how the protagonist and her family (Ben Mendelsohn and Essie Davis) cope with the intense strain of their circumstances through various dysfunctional methods. Benefitting from a snappy script and delicate intimate filmmaking from debut director Shannon Murphy, the film is heart-achingly humanist. These moments of acting out are depicted in a handful of incredible sequences which manage to find beauty and poetry in the mundanity and pain of everyday life.
For more of my favourites of the year, check out my podcast I Know That Face, which I co-host with fellow Film Ireland contributor Andrew Carroll.
---
David Prendeville
I'm Thinking of Ending Things
Uncut Gems
The Painted Bird
Little Joe
Tommaso
---
Brian Quinn
First Cow
I'm Thinking of Ending Things
Parasite
Uncut Gems
The Personal History of David Copperfield
Honourable mentions:
David Byrne's American Utopia
Kajillionaire
Dick Johnson is Dead
---
David Turpin
Vitalina Varela
A transfixing portrait of people living in obscurity – often literally, this was as pictorially dark and thematically heavy as one has come to expect from Pedro Costa. But it's also an exquisitely, breathtakingly beautiful film, and the sombre rage and stoicism of its title character – who shares her name with the actress who plays her – is unforgettable.
The Painted Bird
An arduous but ravishingly photographed journey through hell, The Painted BIrd is based on Jerzy Kosiński's 1965 novel of the same name, which was initially claimed to be autobiographical before being revealed as pure fiction. The film has a similar slipperiness – using the Interslavic language (for the first time on film) to prevent its unnamed nightmare terrain from being associated with any specific country. Although it presents as a kind of history, it captures better than almost any other film the particular feel of Central European folk narrative.
Portrait of a Lady on Fire
A romantic drama scripted and shot with great elegance and economy, Portrait of a Lady on Fire is also an interesting object lesson in the vagaries of the translated title. While the English title carries – presumably intentionally – slangy evocations of empowerment and sexual license, the original French title – literally Portrait of a Young Girl, Burning – seems to evoke far more specifically the tightrope of the tender and the brutal walked by this love story. It's not perfect (it has one ending too many, and some of it is rather neat), but it is full of cherishable things.
Pinocchio
Matteo Garone's beautiful, hand-crafted adaptation of Carlo Collodi's 1883 novel is remarkably faithful to the original text – which is a satire of 19th century Italian society as much as a charming fable for children. Somewhat abstracted from their real world referents, however, Collodi's most memorable scenes – the puppet hung from a tree; the court presided over by a chimpanzee judge – have the weird clarity and inscrutability of a dream. Like Jeunet and Caro's The City of Lost Children, this is a children's film in that it seems to actually capture the often alienating experience of being a child, and the ways in which adults continue to be haunted by it.
Uncut Gems
The story of an insufferable man in a tailspin of his own making, the Safdie brothers' breathlessly exciting film entirely disproves the tiresome screenwriting adage that we must 'like' characters in order to invest in their predicaments. The film's coup-de-grace, though, is the way in which its final dead end plays as authentically tragic – like hopping off a fairground ride only to get a splash of cold water in the face.
Also: Moffie, Bacurau , Little Joe , Koko-di Koko-da & Matthias + Maxime (I don't know that this was exactly great, but it had a bad mommy, flung spaghetti, true love revealed by childhood crayon drawing, and a 'ravished on the workbench' love scene so… film of the year?).
---
Hugh Whelan
Babyteeth
During one of those brief periods this year in which cinemas were open, I was lucky enough to catch this stunning debut feature from Shannon Murphy. Babyteeth is an Australian coming-of-age drama that follows high-school student Milla (Eliza Scanlen) as she defies the wishes of her parents by developing a relationship with Moses (Toby Wallace), an older drug addict. The film perfectly captures the emotional turbulence of the teenage experience, as well as the dysfunctionality of middle-class suburban life. With some powerful performances, sharp writing and an absolutely killer soundtrack, Babyteeth is not to be missed.
Uncut Gems
I wish I could travel back in time to January 2020 for a number of reasons – one of which, undoubtedly, would be to watch Uncut Gems again for the first time. This film is defined primarily by its relentless pace, but also by a career-defining performance from Adam Sandler as Howie, a diamond dealer with a gambling problem. It took the Safdie brothers over ten years to make Uncut Gems, and it deserves all the praise it has received since its release. An instant classic.
Broken Law
Arguably the best Irish film that was released this year, Broken Law follows two brothers (a Garda and a convicted criminal) as they attempt to reconcile their relationship against the backdrop of post-recession Ireland. In his feature directorial debut, Paddy Slattery succeeds in eliciting some memorable performances from a talented Irish cast. The result is an explosive and highly-enjoyable viewing experience that offers a welcome change from the predictability of similar Irish crime films.
Tenet
Tenet is yet another venture into the subject of time from veteran director Christopher Nolan, and it does not disappoint. Some viewers complained about the film's overcomplicated plot, but it is precisely this puzzle-solving aspect of Nolan's films that makes them so entertaining to watch. The thrill and suspense of Tenet are matched perfectly by Ludwig Goransson's eerie score. Much more than just a confusing spy film, Tenet is well worth a watch (and maybe a re-watch, to understand it fully).
Waves
As the last few years have made clear (think Mid90s, Eighth Grade, and Midsommar), we're living through a golden era of A24-produced indie films. With a vibrant colour palette, a groovy contemporary soundtrack, and a plot that deals with family trauma, Waves is unmistakeably one of those A24 releases. Written and directed by Trey Edward Shults, the film follows a family in suburban Florida as they attempt to overcome a personal tragedy. While the second act of the film is certainly better than the first, Waves provides unforgettable moments of beauty and heartbreak throughout.
---
And our contributors who sought refuge beyond 2020
June Butler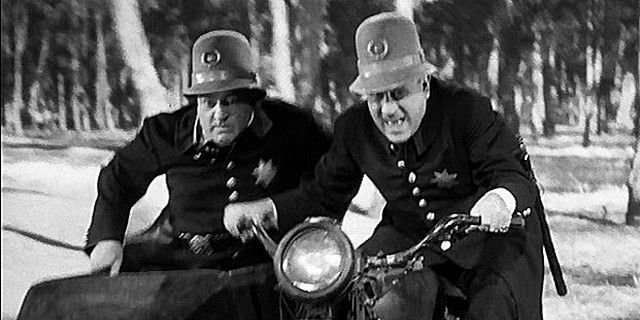 Abbott and Costello Meet the Keystone Cops
Absolutely one of the funniest films I have seen in ages. Sidesplittingly hysterical. Abbott and Costello truly deliver in this caper set in 1912 where they are conned into buying the original Edison Studio. It's slapstick at its best. Some jokes are a tad jaded but even that in and of itself is humorous. The final scenes involving the Keystone Cops falling off their police truck as it careers around hairpin corners, alongside the hapless Abbott and Costello is still making me lol and it's been a few weeks since I watched the movie. Lou Costello is a comic genius – as the fall guy to Bud Abbott, they make up the perfect duo.
Pain and Glory
Sumptuous, visual and visceral. Almodóvar has delivered one of his best films in a while. Banderas is exceptional as is his co-star Asier Etxeandia, who almost stole the show.
Melancholia
Without exception, one of the best films I have ever seen. The storyline was utterly spellbinding and I found myself riveted from beginning to end. Special effects both at the onset and in the final jaw-dropping moments were mesmerising. If I described the images, it could somewhat dampen viewers expectations because no words could do the form justice.
Rebecca
Alfred Hitchcock's first American film is hauntingly beautiful and in my view is the best film he made. Women are key to the narrative – they subsume male roles into their own feminine power, bypassing the 2 male characters as secondary to the central theme. My favourite movie not just for this year but for any year.
Emma Keyes
I only saw a couple of films that were released in 2020. Even films that I saw in the cinema before the lockdown in March were actually released in 2019 (A Hidden Life, Parasite, Uncut Gems). If it's fair game to say the top five films we discovered this year were released before 2020 so here's an arbitrary grab bag of favourites from this year because I saw a ton of great movies.
---
Beau Travail
A film that is of this world and yet apart from it. The camera gazes at the body, the sun, and the sea. The choreography of military and physical drills bleeds into dance. Tragedy gives way to the sublime. A truly singular film.
The Decameron
Is there anyone better at digging into the grit of being alive than Pasolini? Blood, dirt, and sex. Love and death. The sacred and the profane. I'm not sure anyone had a better command of the visual language of cinema than he did. And since the Decameron comes from a plague year, it's a perfect film to watch during our own plague year.
My Brilliant Career
The characters in this film are so alive, especially Sybylla, whose coming-of-age story this film is. She demands to live life on her own terms no matter what that means she has to give up. Anderson conjures up a time and place so well you can practically feel the dust of the Australian outback.
Pain and Glory
Almodovar strikes the perfect balance between humor and melancholy in this rumination on what it is to be an artist who cannot find one's art. Probably my favorite film of 2019 (although I saw it in 2020) so it's a shoo-in for this year.
Touki Bouki
One of the most stylish films I've ever seen with an incredible soundtrack and scoring and a vivid sense of color and rhythm that brings to life the post-colonial malise embedded in every moment of this film. A vibrant piece of cinema from a continent often ignored in film history.
---
Michael Lee
This year I found myself lost and had to look back to the movies that keep me going and give me hope. So it might be cheating a little but my 5 favourite films/shows this year aren't from this year for once
Punch Drunk Love
My life feels like this sometimes; sometime I think I might be Barry Egan
The Man Who Would be King
Love
A beautifully crafted Netflix series that mixes comedy and drama expertly. It's just so relatable and I feel I know all the characters.
The Master
The performances are timeless and it's the perfect movie for a world that's lost its footing. A sombre reminder that's its ok not to know where the future leads.
The Cable Guy
This film isn't even especially good but sometimes you just need to switch the brain off and this was the perfect medicine, but I loved watching it and laughing with friends.