Claire Byrne, Juanita Wilson & Lydia McGuinness
WFT Ireland announced the winners of their members' Short Film Showcase 2019, held in the IFI on Wednesday 6th March. The event was organised in partnership with the IFI, and with the support of the BAI, to celebrate International Women's Day.
The judges selected No Place as the second runner up. This short was written and directed by Laura Kavanagh and produced by Laura, Emily Morgan and Barry Ward. A timely short, No Place tells the story of Angela and her two young kids as they are evicted from their home. Angela struggles to maintain a sense of normality as an increasingly desperate situation unfolds.
Second place was awarded to The Girl at the End of the Garden, a comedy drama about an unhappy young girl whose life is turned upside-down when she finds a mysterious runaway with psychic powers in her back garden. The Girl at the End of the Garden was directed by Bonnie Dempsey, written by Rodney Lee and produced by Sinead Barry and David O'Sullivan.
Her Name Is…
The winner of the overall competition was Her Name Is… directed by Lydia McGuinness and Claire Byrne. This heartbreaking short was written by Lydia and Ben Conway, and produced by Jo Halpin and Emma Wall of Alfonso Films. Her Name Is… follows an isolated young woman on her journey through the city streets in a final act of desperation.
The filmmakers were presented with prizes on the night by special guest, Oscar nominated filmmaker, Juanita Wilson.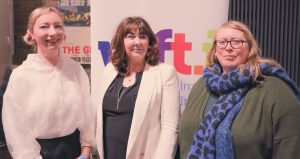 Juanita Wilson, Susan Liddy, Vanessa Gildea
WFT Chair Dr. Susan Liddy said: "Our Short Film Showcase is an affirmation of the talented women working in the industry today. We were struck by the range of films submitted and, indeed, the range of filmmakers – from more established names to emerging voices. WFT is immensely proud to have hosted this wonderful evening to highlight our female talent. We'd like to thank Sunniva O Flynn and the IFI team for embracing the event and the BAI for their continued support. We were overwhelmed by the huge audience on the night and the enthusiastic commitment by female filmmakers to stand their ground, tell their stories and make their mark in the Irish film industry. And WFT will be there to support them all the way".