The 57th Corona Cork Film Festival, 11–18 November 2012
Pilgrim Song : Directed by Martha Stevens
A slight and low key journey into the sort of mid-life crises only indie film protagonists have, this is essentially "mumble-core does wilderness" with all that that suggests. We have a loose improvisational feel as recently made redundant music teacher James sheds various responsibitles in his life for a planned two month trek up Kentucky's Sheltowee Trace Trail to "find himself". Meeting some interesting individuals his fate becomes oddly entwined with a strange father and son whose own dynamic is a world away from the values James seems so intent on fleeing.
The domesticity he wishes to escape is primarily a marriage in trouble with his perfectly pleasant, seemingly passive wife and the films detached style is part of the problem.
James comes across as a rather lifeless husk himself, not terribly engaging and barely likeable. It's a shame that a film that strives to communicate some small morsels of wisdom is lumbered with him at its core. I'm a firm believer that to compare and contrast lifestyles, demeanours and personalities, a strong anchor is required and here our star seems like a self important and quite selfish man.
While some scenes make a virtue of the loose style allowing a few dialogue exchanges to pop with an honesty and authenticity which would be bled from a lot of traditional fare, the film seems to set itself up as something of substance but then undercuts that with some easy redneck characterisation and caricaturising of small town America. It's a grand film while it's on but it's hardly something you'd rave about or recommend too strongly.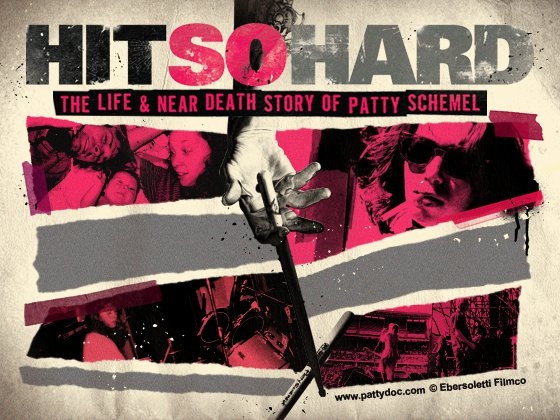 Hit So Hard – The Life and Near Death of Patty Schemel : Directed by P. David Ebersole
Music documentaries almost always follow the same dramatic arc, the giddy first steps into recording, the dizzying highs of the peak years and the inevitable come down, a series of strung out regretful instances where fickle fame turns on the star and almost destroys them. Turned into cliché fodder by the likes of VH1: Behind the Music series and a glut of music documentaries made in the last decade or so, here we have the story of 90s alternative rock band Hole and in particular their powerhouse drummer Patty Schemel.
It ticks all these boxes but while the overall structure might be predictable, the film itself is well made if unadventurous. Some heavy handed text headings punctuates almost every chapter here and while as a device it's a little hokey, the candour to be found here is surprising. Even in the most confrontational of documentaries there is a white washed and sanitised watering down and while traces of that are here, I found it interesting how unsympathetic and upfront some of the subjects were, in particular the divisive figure of Courtney Love. While Love has always been ironically a hate-figure of sorts, the film doesn't shy away from her contrary behaviour and the latter passages, as Schemel finds herself on the streets are harrowing in an understated way, the direct testimony hitting a number of disquieting notes.
I was never much of a Hole fan but loved many of their peers from the time and it's these glimpses into the overall scene, with Kurt Cobain's iconic presence most deeply felt as he and Patty were quite close. Outside such obvious material though I greatly enjoyed seeing orbiting bands and their opinions on the subject.
Here was a world of the Melvins bleeding into Faith No More, photo shoots with Metallica and off hand remarks from Eddie Vedder to footage from Nirvana's In Utero sessions. It was a time when nihilism and alienation was being embraced and refashioned by a strangely engaged mainstream audience. The last gasp of alternative rock, as the hangover of Nirvana's crossover still lingered and brought many acts along in its wake.
This dissection of the scene was the thing that most interested me but this was delivered with a disturbing yet ultimately redemptive human interest story. It's nothing you haven't seen before but like Schemels steady drum beat, it keeps time well enough for enthusiast or casual fan alike.
Gayby : Directed by Jonathan Lisecki, Starring Jenn Harris, Matthew Wilkas
A slight but charming take on modern relationships and the paternal desire, Gayby follows a woman named Jenn who is desperate to have a child and calls upon her best friend, a gay man named Matt to help her conceive.
A dynamic that recalls Will and Grace filtered through a low budget indie sensibility. The production does occasionally suffer from a lack of scale, coming across as very sitcom-ish and stagy but the script is warm enough to paper over any such flaws. While not averse to using huge stereotypes to sell the situations and characters there is a knowing self awareness to the film that stops it from tripping over itself too much.
The humour flows naturally from the characters, little quirks built on nicely and the whole affair doesn't outstay its welcome, bouncing along nicely and in an unassuming fashion. The frankness to which the script deals with sexual pratfalls and politics is also a plus, this world feeling remarkably lived in and grungy where needed but then also coming across as fluffy and cartoonish elsewhere. The film is modest and the performances follow suit but there is a winning chemistry between Jenn Harris and Matthew Wilkas, their relationship is natural and unfussy.
Throw in a healthy dose of snark to the jokes and some discussions on comics (Matt being a comic shop owner and aspiring creator) which feel genuinely authentic rather than any band wagon chasing of geek culture and you have a frothy and fun mid tier feature. Disposable and light but none the worse for that.
Emmet O'Brien